There were very few European car manufacturers that can compete with Panhard et Levassor, founded in Paris, France in 1891 in terms of innovation and tradition.
Up there with industry pioneers such as Daimler-Benz, Panhard remains one of the grand old names in motoring history.
Panhard's history began in 1867 when Rene Panhard became a partner in a Paris engineering company that specialised in producing band saws and other machinery for the woodworking industry.
Panhard was joined several years later in the business by his close friend, Emile Levassor. By 1875, the company had diversified completely and involved in manufacturing gas engines for the Deutz car company.
As fate would have it the engine was being developed by a company that employed Gottlieb Daimler as head engineer. Daimler was impressed by the talents of the pair and later, in the 1880s, when Daimler needed a production facility for his own engines, he turned to Panhard and Levassor.
Panhard et Levassor also began to manufacture Benz engines and, in 1890, supplied powerplants for Peugeot. >
By the early 1890s, the partners began to experiment with cars of their own creation, and, sold two of them.
Panhard et Levassor were innovators in many ways, issuing a full-scale sales catalogue way ahead of their compatriots in the automobile industry not only in Europe but across the Western World.
By 1894, around 55 Panhard et Levassor automobiles had been produced and in customers' hands, each of them fitted with a steering wheel, front-mounted engine, and a chain drive to the rear wheels.
With the partnership's fortunes booming, the company were suddenly exposed to a major tragedy when Emile Levassor was seriously injured while participating in the 1896 Paris-Marseilles race, succumbing to his injuries the following year.

Despite his loss, Rene Panhard decided to retain the memory of his co-founder for posterity, officially adopting the title Societe Anonyme des Anciens Etablissements Panhard et Levassor.
By the beginning of the Twentieth century, Panhard et Levassor were producing more than 1,000 vehicles per year.
Panhard passed away in 1908 at the age of 67.
Despite the patron's passing, the company remained in family's hands for another sixties years after his passing.
During the years between the wars,the Panhard companyintroduced a number of industry innovations, among them four-wheel steering, installed on military vehicles before World War II.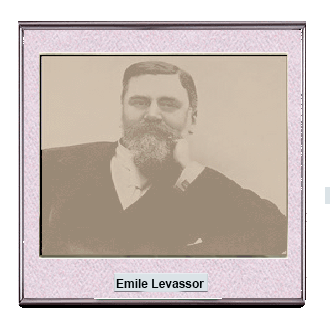 In 1937, a futuristic unibodied "Dynamic" series appeared, with fair headlamps, enclosed front wheels, a central steering w and independent torsion bar suspension at all four wheels.
After planning to introduce some large automobiles World War II, evolving from the pre-war Dynamic, Panhard Levassor instead released a smaller Dyna Panhard. B upon a front-drive design created in the war years powered by a horizontally-opposed two-cylinder engine wore a light alloy body.
Though considerably different in appearance from the Panhard released. During the Fifties. The first post-war Dyna sedan had a similar grille shape, with a round element in its centre.
Three slim horizontal bars reached outward from each side of the centrepiece, which was partially enclosed by long horizontal upper and lower mouldings. Headlamps were mounted inboard of the separate rounded front fenders.
A flat windshield was used, and front doors of the aluminium four-door sedan body were hinged at the rear- "suicide" style.


By 1952 the Dyna engine came in three displacements: 610. 745, or obtained by altering the bore dimension.
Production at Panhard rose quickly during the immediate post-war years, reaching 10,000 units annually by the early Nineteen Fifties.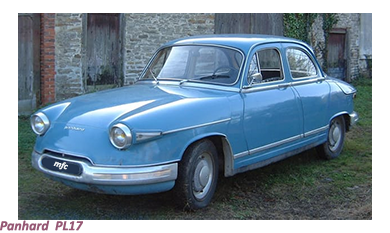 No less critical, Panhard's air-cooler twin engine was finding its way into many sports cars and other automobiles.
A modified Dyna appeared in 1956 with the same engine configuration and another light body with a distinctive front end.
Viewed from the front, in particular, no one was likely to mistake the new Dyna Panhard for any other car. A low, wide, vaguely oval-shaped grilling used the front bumper as its lower moulding, while the upper frame extended outward to wrap around the front fenders.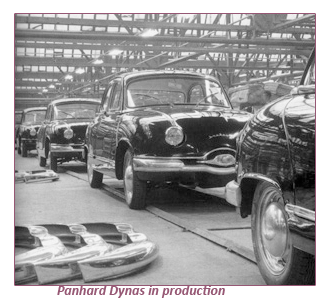 Within that opening, taking up most available space was a wide horizontal decorative insignia. Headlamps were b the fenders, but somewhat inboard.
Round protruding parking lights went placed before the headlights (less evident in the early examples).
Dyna's well-rounded and chassis were made of light alloy (mainly aluminium) panels, welded together complete structure, including doors, weighed only 202 pounds.
Front and reassemblies were bolted to that structure. The front assembly held the engine, gears and front-wheel-drive differential, as well as the rack-and-pinion steering mechanism.
Panhard reached their undoubted peak during the Fifties.oing into the Sixties, their designs were becoming dated, and sales began to slump.
In the light of friendly competition, Citroen helped the company through what looked like was going to be a short term but challenging period by providing the plant with subcontract work assembling 2CV panel trucks.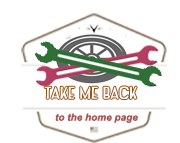 Despite the helping hand, gradually Panhard's situation became untenable, with the family fending off the inevitable by regularly selling off blocks of shares to Citroen.
Late in 1967 Panhard was absorbed totally into the Citroën, who showed little sympathy, winding down the marque almost immediately.