Driven more by the critical success of the "Baroque Angles" the 501 and the 502 than their commercial success, in 1954 BMW announced the forthcoming launch of the 503, that would also be available in a 2+2 grand tourer format.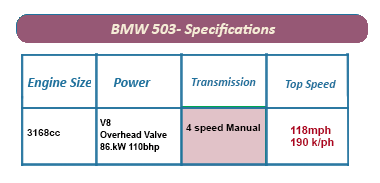 The 503 was clearly designed to compete with Mercedes-Benz who was earning valuable export dollars with both their 300SL and 190SL tourers.
BMW were anxious to take a share of that market.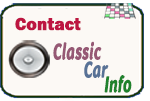 Instead of designing the 503 in-house, BMW called on the services of renowned industrial designer Albrecht von Goertz to submit design proposals. The powers that be at BMW were suitably impressed with von Goertz's design efforts.

Backed up by the prospect of a long-term franchise contract by a leading US distributor, the project was given an immediate green light.

BMW once again failed to pay too much attention to production costs, a factor that would bring a considerable knock-on effect for the financial well being of the company.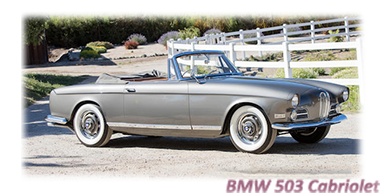 Undoubtedly an excellent car in many ways, with a much cleaner look to it than the 502, the 503 was available in either convertible or coupe form.
The 503 convertible was the first European car fitted with an electrically operated top as standard.


Fitted with the same 3.2L V8 engine matched up to a 4-speed manual transmission as its 502 predecessors, to everyone's surprise, and most people's disappointment the 503 failed to reproduce the 502's performance on-road, reaching 0-60 mph in an unimpressive 13 seconds and a top speed of around 120 mph.

What made the BMW 503 even less of an attraction to the car-buying public, both in West Germany and in any potential export markets was its price of $12,500.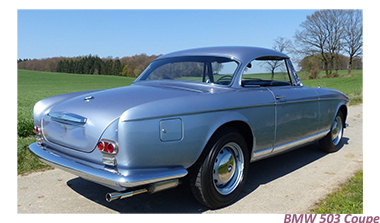 A considerable sum in these still austere times in West Germany and around 25% more costly than initial projections.

In terms of design, the BMW 503 was a classic, and well ahead of its time, although the model once again turned out to be a total financial disaster for BMW who sold just 403 units during its three-year production run.
The BMW 503 was discontinued in 1959, with the company now feeling the effects of launching three models during the Fifties that earned them nothing more than a pat on the back.