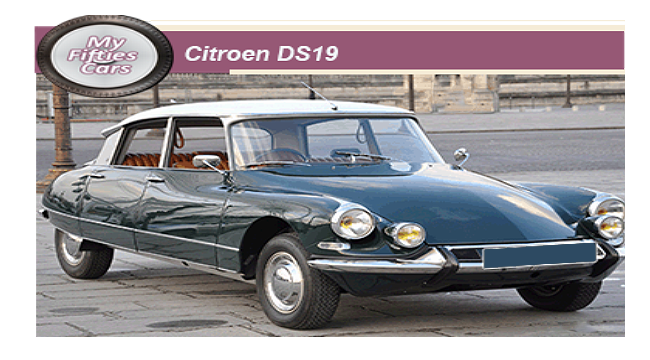 If there ever was a motor vehicle more worthy of the accolade" ahead of its time" then it was the Citroen DS 19, launched in Paris in 1955.
R
arely in the history of auto innovation has a single model encompassed so many innovations.
Standing out among them was undoubtedly the 19's suspension.
The Citroen engineers suspended their new saloon on hydraulic self-levelling hydro-pneumatic struts, with a unique adjustable ride-height facility controlled by a dashboard knob that could set the ride height at 6.5, 9.5 or 12 inches allowing capable negotiation on testing off-road terrain.
'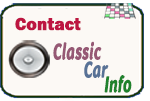 DS' was an abbreviation for Derivation Special, signifying the car's extensive use of hydro-pneumatic power.
The kind of power that meant that when parking a DS19, usually to the delight and amazement of observers, the vehicle car would slowly and gracefully sink till its body sat so low that its body was almost touching the road surface.
Other firsts for the DS were front-wheel drive, power steering, powerful four-wheel disc brakes (inboard up-front) and a clutchless hydraulic gearchange.

Not only was the Citroen DS way ahead of its time as far as mechanics were concerned, but it was also a dramatically good looking vehicle, with a futuristic wind-cheating five-seater body that made its mid-Fifties contemporaries look decidedly stale.
T
he DS 19'S central hydraulic system provided power assist for gear shifting. Rack-And-Pinion Steering, brakes, and more.
A fingertip selector lever for the four-speed hydraulic gearshift was mounted under the steering wheel. No clutch pedal was installed.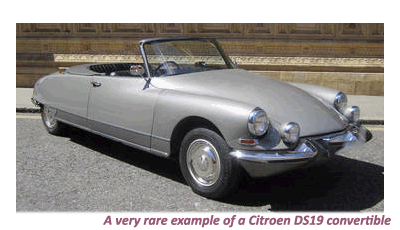 The driver simply selected the proper gear, and the DS19 declutched and re-engaged automatically (hydraulically) in accord with throttle position.
The clutch operated from a lower-pressure hydraulic pump in the water pump.

The incredible hydraulic power of DS allowed for such niceties as tire-changing without a jack.
The five-seat monoshell body rode a platform with side members of welded sheet steel.
No driveshaft tunnel impaired roominess on the flat floor, meaning that a driver and five passengers could squeeze in without any form of discomfort,  aided by the DS19's spare tire stored under the hood.

The DS19 styling features included a low, sloping hood; flat, streamlined rear end: low centre of gravity; and flashing directional signals mounted atop the plastic roof.
The DS19's grille consisted of a simple air-intake opening, low on the front (just above the bumper), with no patterned insert. Another air-intake went below the bumper.

Parking lights stood far outboard on front fenders, below the single round headlamps.
Even decades later, the streamlined, the DS19 still retained its futuristic look, with its reinforced plastic roof and wraparound windshield with its thin corner pillars, offset by windows that had neither supports nor frames made the DS19 a car that would stand out in any crowd.