Enzo Ferrari's never-ending thirst to be involved in motor racing need to be continuously satiated.
In the imm
ediate post-war years, it became increasingly apparent to Ferrari that he could no longer be entirely dependent on private sales of the racing cars he lovingly produced, and the company began to turn their talents to developing production cars.
The first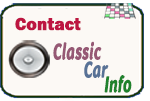 model to turn out of the Ferrari plant at in Maranello was the 195 Inter, in truth the second model designed for road-going, with the first the 166 being little more than a prototype.
Like all his early models, Ferrari fitted the 195 with a V12 engine developed by Gioacchino Colombo who had worked with Enzo at Alfa Romeo and designed a number of the company's racing engines for the company in the immediate post-war years.

Ferrari offered a choice of two different model versions in the Inter- the road-ready Inter version, which was at that time among the most upmarket coupes available in the immediate post-war period when conditions in Europe were still very spartan.

For those who had the desire and financial wherewithal Ferrari offered a 195 Sports version with a "Superleggera" ( super lightweight" body constructed by Milan-based Carrozzeria Touring.
Very few o
f these models were sold, for the simple reason, although they were exceptionally light to handle, they were very heavy on the wallet.
The first 195 Inters appeared at the 1950 Paris Motor Show.
Particularly outstanding was Ghia's coach built version finished in white car accentuating the car's clean lines and oversized front radiator, while Carrozzeria Touring displayed a Berlinetta bearing a strong resemblance to the 166's style, but sitting on a longer wheelbase.

With the 195, Ferrari continued the practice of farming out their coachwork to the leading coachbuilders of Italy.

For this first model,  Ghia and Vignale's body styles were of more appeal than their rivals, during the two years, 1950 and 1951 that the model was in production.


During that time Ferrari produced a total of twenty-five  195 Inters with no figures available for the Super.
Several 195s  found their way on to the racing circuit of Europe during the early Fifties, at both amateur and professional level.

History shows that the 195 Inter was Ferrari's first bona fide production car, its long-overdue arrival, paving the way for a long series of commercial successes that would follow.
Got a question, a comment, a suggestion or an offer??? - FEEL FREE TO CONTACT US ANYTIME!!
A guide to acquiring, restoring and maintaining UK or European Classic Cars of the Fifties and Sixties- as well as a recollection of the iconic cars of the era and the visionaries that produced them.
Take me back to the home page