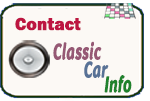 Ferrari's gradual partiality towards producing " road cars" was further confirmed in the early Fifties with the launch of the America series

The first of the Americas, the 340, came to cope with a perceived butgrowing demand from potential Ferrari owners, who were not interested in any way in a track vehicle.

The feedback that Ferrari was receiving through their North American dealerships that there were buyers who wanted to own and drive a Ferrari.
The drawback was that they were wary of the engines fitted in most pre and post-war car Ferraris which retained competition level performance and had never been sufficiently detuned for road use.

To answ
er the demands of this growing market, Ferrari developed introduced the 340 America, initially launched as a two-door coupe, later following that up with the launch of a two-door Spider cabriolet.

The 340 Americas, based on the 166/195/212 chassis, were the first Ferrari road cars to be fitted with an Aurelio Lampredi-designed engine, a 4101cc 250 cubic inch engine coupled with a 5-speed gearbox driving through a rigid rear axle.
While the engine had first been tried and tested on the racing circuits of Europe had been considerably detuned to meet the standards of road use, as well as being fitted with regular wet-sump lubrication.


Only a handful of Ferrari 340 Americas were sold during the two years that the car was in production till replaced by the 342.
Never an over-acheiver during its tentative production run, the 340 did pave the way for some interestimg custom built variations developed from the original 16/195/212 chassis.