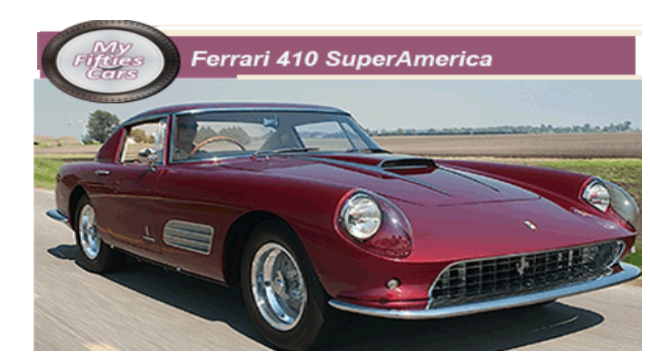 The new 410 SuperAmerica made its debut at the Brussels Motor Show in 1960. Replacing the 410, the new car used a shortened 250 GT chassis and a larger, 3967cc (242 cu in) version of the shorter Colombo-designed V12 in its most developed form.

This en
gine unit was lighter than the V12 used in the 410 and contributed to the lower overall weight of the 400 model.

Using cylinder heads also derived from the 250 GT, and triple Weber carburettors, it produced 253kW (340bhp).

This a
dvancement in engine powere was advertised as capable of turning the car into a 257km/h (160mph) missile, meaning that the the chassis had to be exceptionally sturdy to handle such an upsurfe in power .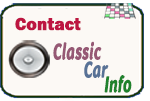 The 410's suspension set-up comprised wishbones and coil springs at the front, while the conventional live axle was retained at the rear.
The four-speed transmission also featured overdrive while braking was by discs on all four wheels.

From 1962 onwards, approximately half the production run had a lengthened wheelbase.

The 41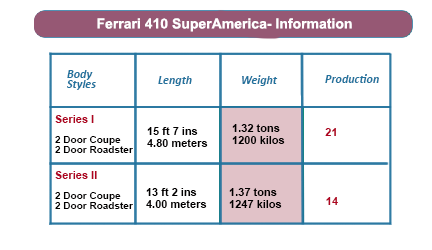 0 SuperAmerica chassis was lengthened during 1962 to 2.60 meters matching that of the original 410 Superamerica models, but the extra room was not used to provide occasional rear seats, just more luggage space.


While no specific records were ever made available by Ferrari, it appears that about 19 LWB Coupe versions were built, while the Cabriolet model was also offered on an extended chassis.

With its nose that resembled that of an ant-eater, coupled with long sloping tail form, the 410 was soon dubbed the `Aerodinamico' - most popular with well-heeled customers who could afford to order one of these imposing machines.

In the end, the 410 SuperAmerica turned out to be over-expensive designed to appeal to the self- indulgent, meaning that most of the fifty produced were exported to North America.

For the mainstream Ferrari follower, the 410 SuperAmerica was too expensive and not much more attractive or faster than the 250 GT.

Less than 50 examples were built, mostly with bodywork by Pininfarina in various styles, including coupes and cabriolets.

>Among the most high profile 410 owners was Prince Bernhard of the Netherlands, Italian designer legend Pinin farina and French industrialist and avid Ferrari collector Michel Paul-Cavallier.