The Fiat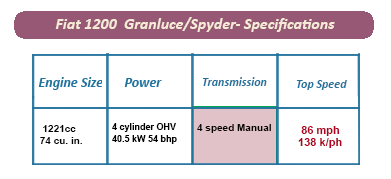 1200 series primarily comprised two models that, despite sitting on the same chassis and having the same powertrain, were in no way similar in appearance.
 The first model in the 1200 series was very closely derived from the 1100,  except that the 1200 Granluce had an all-new, wider windshield offering a tremendous panoramic view, larger side windows, and a massive rear window.
Thanks t
o its generous expanse of glass, the new 1200 saloon was named the  Granluce name, meaning "grand light."
Fiat's design team, in the finest spirit of American design trends of the late Fifties, even continued if not expanded on the rear fins as well as the longer boot they had fitted on the later versions of the 1100 model.
In keeping with the US theme, apparently with an eye for that increasingly lucrative market, the Granluce's came with a contrasting colour roof, a ribbed chrome panel on the C-pillar as well as chrome trim on the bonnet, sides, and boot lid.
As far as power, the 1200s came equipped with a new released 1,221 cc engine developed by Fiat capable of generating  55 bhp.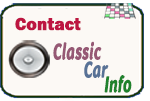 Fiat also introduced the 1200 Spyder two-seater roadster. The 1200 Spyder was once again an updated version of the  Fiat 1100 TV Trasformabile, only fitted with the newer and more powerful 1200 engine.
Exterior changes from the earlier model were minimal and included new front and rear bumpers with taller over-riders moved further inboards.
A novelty feature of the Fiat 1200 were its swivelling seats, which rotated outwards to facilitate easy entry.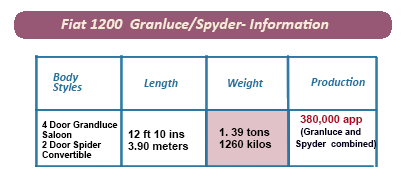 An indic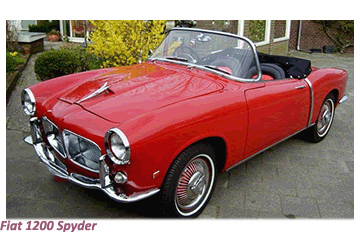 ation of Fiat's level of management during the Fifties and specific interest in this particular model is that there no specific production figures available for the 1200 Granluce/Spyder series.

The only official communication available states that approximately 380,000 models were produced before the 1200 Spyder was taken out of production in 1959 replaced by the Pininfarina-designed 1200 Cabriolet. The 1200 Granluce was discontinued in September of 1961.
First to go was the Spyder, replaced by the Pininfarina-designed 1200 Cabriolet in 1959. The 1200 Granluce was discontinued in September of 1961.
Got a question, a comment, a suggestion or an offer??? - FEEL FREE TO CONTACT US ANYTIME!!
Take me back to the home page