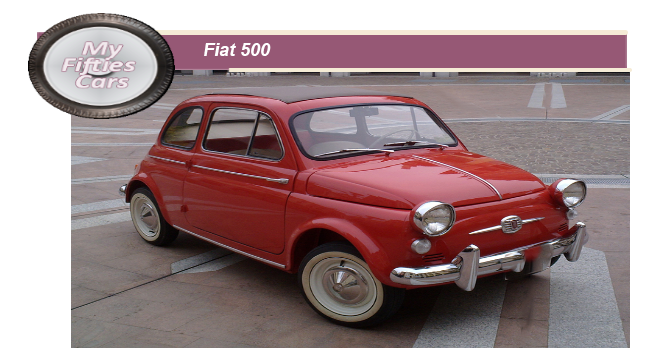 It was the delicate state of post-World War II economics in Italy that dictated the philosophy behind the launch of the Fiat 500.
With mon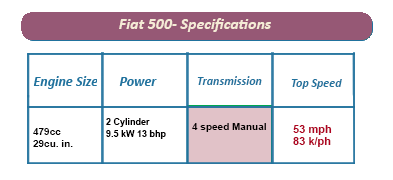 The `Nuova 500', designed by Dante Giacosa, instantly became the definitive "Vinquecento" ( City Car) Small, inexpensive and reliable, the Fiat 500 rapidly replace the hundreds of motor scooters that crowded the streets of Italy's cities and towns, taking the decibel levels down several notches in the process.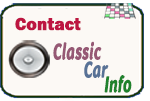 The Fiat 500 was Italy's second attempt to emulate the success of Germany's Volkswagen after the 600 of 1955.
Providing low-cost transport for the Italian masses, the 500 pioneered what today is called the city car—a compact and highly manoeuvrable model that was cheap to run, simple to maintain, and easy to park.

A station wagon with all-steel body joined the original 500 two-door sedans in 1953. The only major update to mark the arrival of the new station was a fuller grille made up of thick and thin horizontal bars.
Parking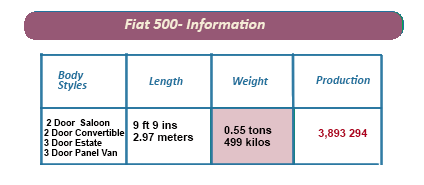 lights stood atop the front fenders while the tail lamps protruded at the rear. Production continued into early 1955, but an entirely different 500 with two-cylinder power soon would emerge.
Production of the rear-drive two-door continued without significant change.

The 479-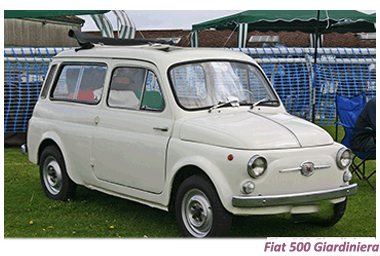 cc engine drove a four-speed gearbox, and a 500 could hit 56 mph or achieve up to 52 mpg. A sunroof was standard.
What was described as a 'Nuove convertible was the sedan with a top that rolled back all the way.
Joining the original car was a tiny two-passenger Bianchina coupe with a special body.

The 'Jolly' sedan version of the 500 found itself a following on the beaches of the Mediterranean, sometimes referred to as a Fiat 'beach buggy."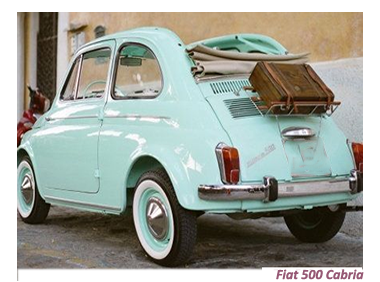 Designed and produced on behalf of Fiat by Ghia, the Jolly had basket-weave seats and fully open sides which led it to be described by the motoring press as a modern-day equivalent of the 'Surrey with the fringe on top'.

Between its launch in 1957 and its discontinuation in 1975, Fiat introduced at least six versions of the 500, without ever altering the cars' primary body shape.
During its eighteen-year production run, the 500 lost its 'suicide doors', had its engine switched from the rear to the front and,in recognition of its succes, was treated to some chrome add-ons which, to Fiat's surprise, detracted from its charm.
Got a question, a comment, a suggestion or an offer??? - FEEL FREE TO CONTACT US ANYTIME!!
A guide to acquiring, restoring and maintaining UK or European Classic Cars of the Fifties and Sixties- as well as a recollection of the iconic cars of the era and the visionaries that produced them.
Take me back to the home page