With Mediterranean Europe ready to pick themselves up at the end of the Second World War, Fiat, the largest car-making plant in Italy and among the largest in Europe were eager to play their part.
At that
point raw materials and financial capabilities were in severe short supply.
This situation meant that Fiat had little option but to re-introduce their pre-war " micro-mini," the 500 Topolino--meaning "little mouse" which had enjoyed considerable success after its launch in 1936.
The first of the prewar-styled two-seat, two-door sedan with separate headlamps id "suicide" doors were revealed to the Italian public in 1946, more as a morale booster than anything else as the vehicle would not be available for general release until mid-1948.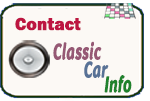 The early post-war 500 was a sleek all-metal two-door sedan standing out for its wider than standard doors, with indicators fitted on the car's front pillars that became something of an icon.
The spare wheel was outside, recessed into the tail.  Inside, two independent adjustable seats had folding backrests to enable easy access to the Topolino's ample interior cargo or luggage space.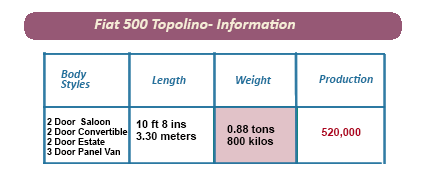 Standard equipment on the Topolino included an electric windshield wiper, built-in headlamps and a rectangular grille made up of five horizontal bars and inside visors.
For those who wanted to give their Topolino a minor taste of luxury, leather upholstery was available as an optional extra.
The Fiat 500 Topolino was powered by a  four-cylinder, 570-cc side-valve engine placed at the front of the car.

This hard-working engine was a credit to Fiat's engineering and development team.
Coming with a detachable aluminium head capable of generating around 16 bhp, and reaching a top speed of approximately 95 kilometres per hour (59 mph), what was probably more important to its owners was that the 500 Topolino was able to consistently deliver more than 20 kilometres per litre (47 miles per gallon).

In the austere times of immediate post-war Europe, Fiat made sure that their Topolino would enjoy maximum market coverage by providing as many options as conceivable in what was a fundamentally designed and constructed body frame, offering not only a two-door saloon but also a two-door estate and a panel truck.
 For the sportier members of Italian society in the early Fifties, the Topolino also came as a convertible, which was little more than a "lick-acting"  sliding roof made of coloured weatherproof material.

The Fiat 500 Topolino represented a significant symbol of Italy's recovery from the effects of World War Two and was a much-loved means of transport for residents of the Mediterranean region well into the Fifties.
During its close to twenty-year production run during which it sold close to one million models, the Topolino's design remained unchanged going on to form the basis for its successor, the hugely successful Fiat 500.
Got a question, a comment, a suggestion or an offer??? - FEEL FREE TO CONTACT US ANYTIME!!
A guide to acquiring, restoring and maintaining UK or European Classic Cars of the Fifties and Sixties- as well as a recollection of the iconic cars of the era and the visionaries that produced them.
Take me back to the home page