Late in 1953, Opel took the wraps off an entirely updated version of their top of the range model, to be known as the Kapitan Series Four.
The first version of the Opel Kapitan went into production during the late Thirties, just as war clouds were gathering in Europe
Longer and wider than its predecessors, the Series Four Kapitan came fitted with same six-cylinder engine matched up with a three-speed column change transmission.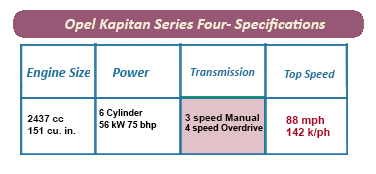 To compensate for the Kapitan Series Four's extra weight it had to carry, Opel's engineering team raised the car's compression ratio significantly to 7.0:1.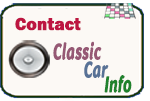 This provided an initial power boost of 50 kW; 67 bhp, up from 43 kW; 57 bhp, which was the maximum available on the Series Three.
As a result of streams of negative feedback from disappointed owners, Opel's engineers pushed up the Kapitan's power even further for 1955, to 52 kW; 70 bhp, and once again for the following year to its final level of 55 kW; 74 bhp for 1956.

Overall, the Opel Kapitan was an impressive piece of engineering, with a sturdy, solid body, independent coil and wishbone suspension at the front and semi-elliptic leaf springs at the back, featuring a redesigned live axle, a rear stabilising bar and slightly enlarged drum brakes.
From the mid- Fifties onwards, It soon became evident, even to the most casual observer, that Opel's parent company, General Motors (GM) had made it a policy to accentuate the North American aspects of their West German subsidiary model's design.
Opel's Stateside slant was translated into vast areas of metalwork offset by an intricately designed chrome grille with shining 'teeth,' whitewall tires and highly polished metal side flashes.

During its six-season production run, Opel's design team updated the Kapitan Series Four almost every year, although the updates were usually cosmetic and minor in nature.
For the 1956 model year, the Series Four was handed yet another minor facelift with a more up-to-date grille, which was decidedly less "toothy" and ornate.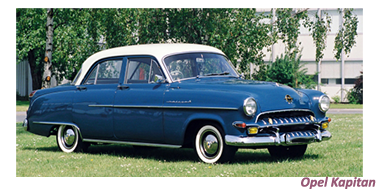 The new front grille was offset by redesigned bezel shaped headlamps, larger front indicator lights and a revised interior and exterior side trim.

From May 1957, the Kapitan came fitted with a semi-automatic all-synchromesh 3-speed transmission as standard, while an additional fourth gear became available on request.


Decidedly North American in its styling, but still providing genuinely European character, the Opel Kapitan Series Four was undoubtedly the best in the series, with just over 150,000 sold during its production run, a remarkable achievement considering the car's considerable price tag.

In its time, the  generation Four Opel Kapitan was the third best-selling car in West Germany behind the considerably less expensive  Volkswagen Beetle and the Opel Olympia Rekord.
Got a question, a comment, a suggestion or an offer??? - FEEL FREE TO CONTACT US ANYTIME!!
Recalling the iconic cars of the Fifties and Sixties and the visionaries that produced them - as well as a guide to acquiring, restoring and maintaining UK or European Classic Cars.
Take me back to the Home Page