Appearing at the New York International Automobile Show in the spring of 1956, the 93 also played its part of the next evolutionary step for the Saab Motor Company.
Bearing an extreme resemblance to its predecessor, the 92, this time around the Saab 93 came fitted with a three-cylinder engine, although it remained a two-stroke that required mixing of oil and gas.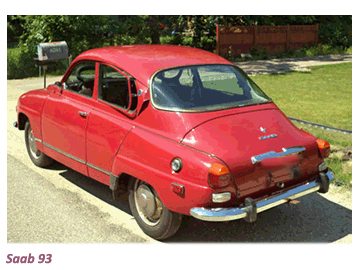 Displacement was actually a bit smaller than the former two-cylinder, while horsepower remained about the same, but it offered smoother operation as well as improved economy.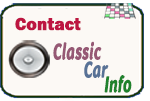 In an attempt to rid the 93 of the tendency to oversteer observed over the year in the 92, Saab engineers provided the car's suspension with an overdue revamp, switching from torsion bars to coil springs.
The redesign meant that the car's front suspension remained independent, using transverse links and a stabiliser bar along with its coil springs.

I
nstead, the back end used a U-shaped tubular, rigid axle and trailing arms with the coil springs.  As a result of the makeover, the 93's track increased by almost two inches.  
As part of their relentless policy to continuously update their only model, in late September 1957 Saab released the 93B version, with the most significant cosmetic update being the final phasing out of the two-piece windshield fitted on the 92 and 93 since its launch. 
In its place came a decidedly more modern one-piece windshield.
Apart from the windscreen change the overall appearance of the Saab 93 was similar to the Type 92, apart from a modified nose, and a slightly flatter front panel.

The Saab 93   was fitted with a much narrower and taller square mesh pattern central grille, which tapered inwards at the top accompanied by twin side "grilles." each with two horizontal aluminium slats that stretched outward below the headlamps.
Standard equipment for the 93 included heater/defroster, dual horns, dual wipers, ceiling lights, chrome-plated bumpers, twin sun visors, and draft shields at the windows.

Showing their increasing attention to increasing safety standards, the 93b became the first Saab to offer the option of a two-point seatbelt.
S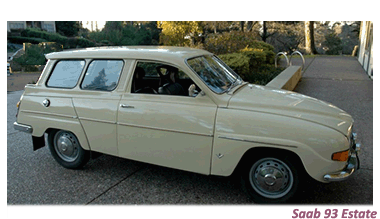 aab's hood was hinged at the front and could be removed completely for access to engine space, as the 93's engine. Clutch, gearbox, and differential consisted of a single unit and could easily be lifted out of the car.

As before, the column-shift gearbox provided access to three forward speeds which could be shifted between second and third gear without the driver needing to press their foot on the clutch.
In June 1959 Saab introduced a workhorse two-door station wagon, the first introduction of a new model since the Saab 92 Sedan launch more than a decade previously.  
Got a question, a comment, a suggestion or an offer??? - FEEL FREE TO CONTACT US ANYTIME!!
Recalling the iconic cars of the Fifties and Sixties and the visionaries that produced them - as well as a guide to acquiring, restoring and maintaining UK or European Classic Cars.;
Take me back to the Home Page