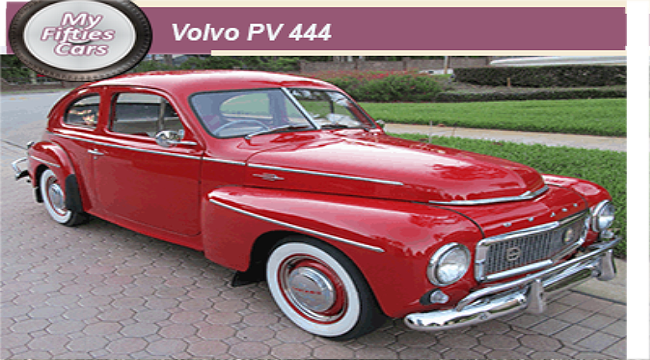 Volvo's first postwar release, the PV444 (with the PV an abbreviation for Personvagn or private car) took the company down-market from in the aftermath of a war which left relatively few people able to afford to buy a new car.
Wi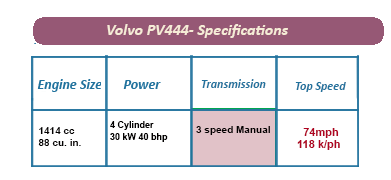 th Sweden maintaining neutrality during World War Two, Volvo remained in production during the conflict, although concentrating mostly on heavy vehicles and tractors with just a few saloon car versions produced,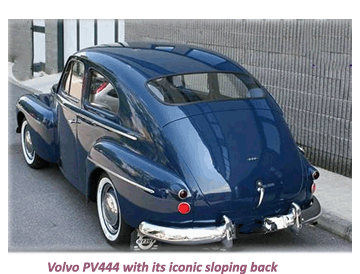 In early 1944, Volvo released the PV 444, a unibody fastback two-door sedan which could be seen on the highways of Sweden as early as 1944.
Volvo officially unveiled the PV 444 at an exhibition in Stockholm in 1944, with its sweeping lines much more trans-Atlantic in its inspiration, contrasting beautifully alongside the class but prewar-styled PV60.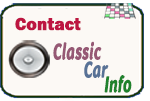 The PV 444's unprecedented success at its first public unveiling proved to be too much too soon for Volvo, with production facilities, from day one, proving to be incapable of coping with the demand, as trucks and tractors remained top of the list of production priorities at the Torsolana plant.  

When production did eventually get underway at full capacity in 1947, the PV444 was the car which put Volvo on the global map, exported in significant numbers.
Po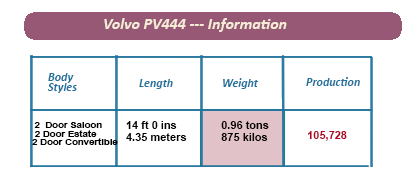 wered by a  four-cylinder  1.4 litre (86 cu in), overhead-valve engine, the Volvo PV444 was an extremely quick car for its size.
This was due to a combination of being lightweight at  968kg (21281b) and powered by 1.4 litre meaning that the PV444 could reach speeds of more than 115km/h (70mph).
 A three-speed gearbox was used, with a long, angled floor-mounted lever (in the style of prewar American cars).
Front suspension consisted of wishbones and coil springs, while the rigid axle rear had coil springs and radius arms.

At the time of its emergence, the original Volvo PV 444 series had a two-piece windshield, and a grille with a loose mesh pattern, although while later models switched to a tight mesh grille pattern.
Early models were painted black, with mechanical turn signal indicators mounted on the door pillars and wraparound tail lamps.

By the start of 1952, a total of 25,000 PV444s had been built. Improvements came with each edition, as did the availability of various colours.
Tiny round parking lights sat below, and outboard of the headlights and the head displayed a hood ornament.
Small round tail lamps stood at the ends of the fenders, with auxiliary lights higher
A
Duett station wagon, based on the PV444, was initially released during the summer of 1953 although it proved to be a bit of an initial disappointment regarding sales

The Duet station wagon only began to really take off after a relaunch at the New York Auto Show of April 1956.
What made the vital differenced was that the PV444 had been remodelled, with a different front-end appearance dominated by a horizontal-bar grille,
Also striking was the PV444's new two-tone colour scheme with the second colour around the window frames, similar to the front-end appearance of earlier models.
With two optional seats, the five-seater could now be readily transformed into a seven-passenger vehicle, while a roof rack also was optional.