By1958 Volvo, had enjoyed a fifteen-year production run with their PV444, and decided that the time was right to launch its successor, the equally imaginatively titled PV544.
As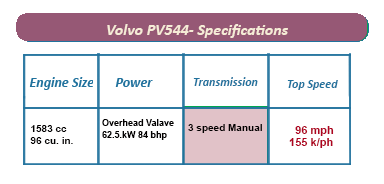 was the case with its title, the Volvo PV544 was very similar to its predecessor both regarding design and technical specifications.
The differences between the 544 and the 444 all helped: its curved one-piece windscreen, a much larger rear window which significantly improved visibility.
Other new features included a more substantial rear seat that could accommodate three people in comfort, a dashboard whose upper half had been padded to increase safety, and a ribbon-style speedometer.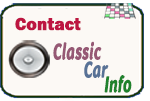 Mechanical updates included a full synchromesh four-speed gearbox, still linked to the direct-action "pudding stirrer" floor shifter, and an 85hp, twin SU-carbureted 1,580cc "B16B" four-cylinder engine,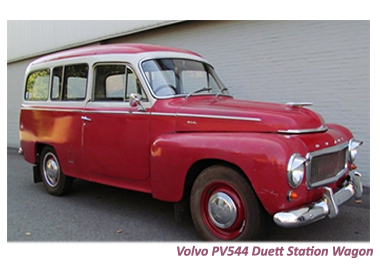 This engine and transmission combination gave the car a sparkling 95 MPH top speed and mileage in the range of 25 to 35 MPG.
The Duett station wagon, based on the PV444, initially released during the summer of 1953, was given a total makeover in line with the PV544 design layout.  
Although it had proved to be a bit of an initial disappointment with a lack of demand in its PV 444 format, the Duett station wagon began to really take off after a relaunch at the New York Auto Show of April 1956.
 With two optional seats, the five-seater could now be readily transformed into a seven-passenger vehicle, while a roof rack also was optional.
The

PV544 did not manage quite as long a production run like its predecessor, although it would keep rolling off the production line for eight years.
What was important, however, was that it was the first Volvo to make any significant impact on the U.S. market
Got a question, a comment, a suggestion or an offer??? - FEEL FREE TO CONTACT US ANYTIME!!
Take me back to the Home Page