Eager to get back into full production at the end of Second World War, AC rapidly launched their impressive but expensive 2-litre saloon.
The AC 2 Liter went on to become to be a consistent seller, even under the shadow of prevailing post-war austerity that typified the UK of the late Forties.
While the 2-litre saloon kept AC in business after World War II, it became apparent to the company's management that there were niche markets to be exploited using more specific versions of the model.
Identifying a potential market for famiky sized sports tourers, AC set about the development and production of a car in that category, which was marketed as the Buckland.
A
n open-top five-seater with cutaway doors, the Buckland Tourer was lighter and more fashionable than many cars in its category, but despite being fitted with an AC developed 2-litre engine was still far away from being a sports car.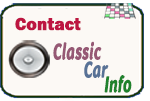 The Buckland got its name from its body-produced for AC by the Buckland Body Works located in Cambridgeshire, a fair distance away from AC's plant in Thames Ditton.

The distance between the two plants meant that the production procedure involved was by necessity laborious, with the chassis requiring to be transported to the Buckland workshops for final construction.

From there the AC Buckland tourer emerged with a swooping (but slightly bulky-looking) body made with the same aluminium-over-ash frame construction used in the 2 Litre saloon.


The Buckland's  doors were much smaller than those fitted on the saloon version, with curvy cutaways along their top edges.

The windscreen was designed to fold flat, and the hood folded away into a recess behind the rear seats.


The idea behind this design was to generally enhance the sporty feel of the model — although its weight and slightly antiquated feel did much to offset that impression.
Despite stiff competition, the Buckland sold reasonably well for a model whose expectations were low-volume.
Production continued up to the mid-Fifties when a combination of dated design and lack of real power encouraged AC to phase the Bucklands out.