Armstrong Siddeley  Star Sapphire was a large scale family saloon brought in to replace the Whitley. The  Star Sapphire remained in production, in various model formats, from 1952 till 1958.

The Sapphire variations' distinguishing feature was the iconic Armstrong Siddeley V-shaped radiator grille with a Sphinx design firmly affixed on it.
The 346 was the first of the Sapphires, introduced late in 1952 remianinin in production until 1958. The six-cylinder 3,435 cc engine had hemispherical combustion chambers. The engine could be equipped with optional two Stromberg carburettors (£25 additional) to boost power from 125 to 150 bhp (93 to 112 kW) and a top speed of over 100 mph (161 km/h).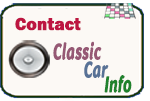 The front suspension consisted of independent coil springs with a stiff axle, while the rear suspension consisted of leaf springs.
All of the Girling hydraulic brakes were equipped with 11 in (279 mm) drums.
advent of the Mark II in 1954, the 346 was available with an automatic transmission (a Rolls-Royce Hydramatic four-speed).
Several body variations were available for the 346; for example, the body could be ordered in a semi-stretch combination, with three windows on each side, as well as the standard two door four side windows version.


The  Sapphire 346 came with either a Wilson electrically controlled finger-tip four-speed pre-selector gearbox or a four-speed synchromesh gearbox.
Both variations were available with either individual or bench front seats. The leather seats were complemented by walnut veneer on the console and door casings.
An added piece of luxury was a  heater which came as standard in the 346 package.


Also available were the  Sapphire 234 and 236, identical in appearance but fitted with two separate engines that had differing performance characteristics. For someone who wanted to differentiate between the two models, wire wheels were available as an option on the 234.

The 234 was produced from 1955 to 1958 and featured a four-cylinder 2,290 cc variant of the 346 engine and a four-speed manual transmission with optional overdrive.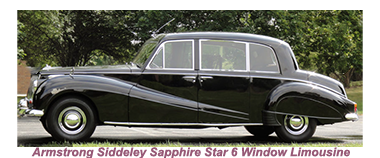 The 236 was produced between 1955 and 1957 and featured the same six-cylinder 2,310 cc engine fitted on the Armstrong Siddeley Whitley. Although a traditional manual transmission was available, most 236 owners specified that their vehicle be  equipped with Lockheed's Manumatic "clutchless" transmission. On either transmission, overdrive was an option.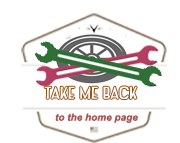 In 1955, a long-wheelbase limousine variant of the  Star Sapphire was introduced with a pre-selector gearbox as standard, while a four-speed manual column-change gearbox was offered as an option. This version of the Star Shapphire sat on  a chassis with a longer wheelbase (increased by 21 inches or 535 mm), To add to its appeal to the upper end of the market, the body was fitted  with a  limousine division.

A  MkII  version of the 346  was launched in 1957, but once again sales were lukewarm. The management team at Armstrong Siddeley were beginning ro face a grim realisation- that the  market for  " gentlemen's carriages " was fading rapidl, with demand switching to compete Jaguar, Rover an even Triumph  who were gradually dominating the luxury saloon   sector..
A guide to acquiring, restoring and maintaining UK or European Classic Cars of the Fifties and Sixties- as well as a recollection of the iconic cars of the era and the visionaries that produced them
Got a question, a comment, a suggestion or an offer??? - FEEL FREE TO CONTACT US ANYTIME!!
Take me back to the Home Page