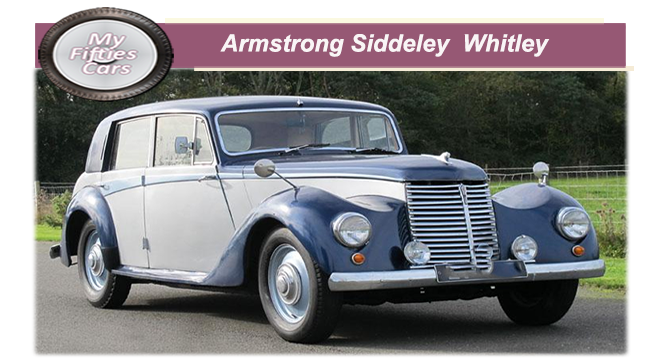 The Whitley followed hard on the heels of Armstrong Siddeley 's immediate post-war releases. 
C
lassed as a sports saloon automobile, the Whitley the last of the 16/18 hp series produced by the company which, while lacking in modern design features proves study workhorses for the car-hungry UK and Commonwealth public of those times. 
Once again following in the tradition of naming their cars after famous WWII aircraft, the Whitley was often unfairly compared to and from Sydney's other saloon model of that time-the Lancaster, when in fact both models were different in appearance while being identical mechanically.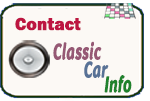 To begin with, the Whitley had a much sportier look and had been given considerably more in the way of luggage storage space.
During the four years that it was in production, the Whitley only came fitted with Armstrong Siddeley's larger 2309 cc overhead valve engine.

Because Armstrong Siddeley only ever produced limited quantities of any particular model,to increase their chances of sales, the Whitley was available in a wide variety of body combinations.  
One of the most popular was the 4 or 6 light saloon variations, Armstrong Siddeley also produced a number of limousines between the years 1950 to 1952.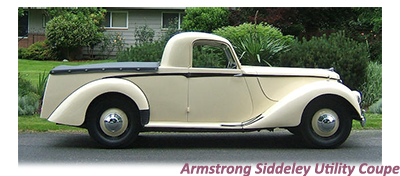 With an eye to the export market, Armstrong Siddeley also marketed the Utility Coupe and Station Coupe, which were actually pick-up versions of this solid vehicle, produced mainly for export selling well in Australia.  

The Utility came fitted with a single front bench, while the Station Coupe was more of a small station wagon, kitted out with a back seat, although providing very little in the way of legroom.
The engine was a development of the 2 litres 16 HP engine, in turn closely modelled on its prewar counterpart.

With an eye to improving passenger comfort, in 1952 Armstrong Siddeley introduced a   6-light body of the car, while at the same time released a revised version of the 4-light body.
At the same time as the release of these newer versions of the Whitley's production of the Lancaster was discontinued.
Despite being in the shadow of its two immediate post-war counterparts, commercially the Whitley sold in in higher numbers than both of them, possibly due to the myriad variations available.
Got a question, a comment, a suggestion or an offer??? - FEEL FREE TO CONTACT US ANYTIME!!
A guide to acquiring, restoring and maintaining UK or European Classic Cars of the Fifties and Sixties- as well as a recollection of the iconic cars of the era and the visionaries that produced them.;
Take me back to the home page