i With the launch of the Aston Martin DB2/4 in 1952, most of the shortcomings of its predecessor, the DB2 had been had been ironed out.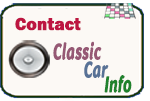 Also new was an opening boot in which were squeezed two minuscule rear seats, ostensibly turning the DB2/4 into a 2+2.
On the downside, the new boot design gave the DB2/4 a much more bulbous appearance, although partially offset by Aston Martin's design team adding proper bumpers, which effectively lengthened the car.
The additional two seats, irrespective of whether they were in use or not, predictably added to the DB2/4's already considerable weight.


Aston Martin, anxious to overcome some of the complaints regarding the DB2/4's sluggish performance, began to offer a higher output version, the 'Vantage' 2.6-litre, available as an optional extra for the DB2.
Soon the Vantage became standard for all DB2/4s, later increased to 2.9-liter, which pushed up the car's performance levels even higher.

like the DB2, the DB2/4 could also be bought in drophead form, although the majority were sold with fixed heads.
With its added refinement of the problematic noise vibration which stigmatised its predecessors being almost completely reduced, the DB2/4 sold well at the time, with 565 produced in two years compared with the 409 DB2s in the three years that this model was in production.

On the wave of this success, Aston Martin invested in a design update, releasing a Mk II version of the DB2/4 in 1955.
T

he Mark II had a separate bonnet (previous models' bonnets were combined with the front wings) and a higher roofline, as well as some added exterior trim, much to the distaste of a large number of Aston enthusiasts, who regarded the extra trim as superfluous.
Despite its possible shortcomings, the DB2/4 Mark II remained a steady seller till it was replaced by the Aston Martin DBMarkIII in 1957.
Got a question, a comment, a suggestion or an offer??? - FEEL FREE TO CONTACT US ANYTIME!!
A guide to acquiring, restoring and maintaining UK or European Classic Cars of the Fifties and Sixties- as well as a recollection of the iconic cars of the era and the visionaries that produced them.
Take me back to the home page.