In 1956, Austin eventually decided that the time was right to update their top selling A30 compact saloon. The new model was named the A35. 
F
ollowing up on some negative feedback on the A30, Austin fitted the A35 with a more powerful engine, enlarged to 948cc.
Cosmetically the grille was changed from chrome to body color, and a larger and eminently more attractive panoramic rear window was fitted.
To increase driver comfort, the A35's gear shift was also changed, with the new model using remote linkage instead of the A30's long gearstick direct from the gearbox.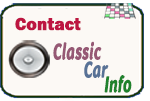 When compared to the larger and more modern-looking saloons of the mid-Fifties, in particular, the Morris Minor, the A35 did not look too impressive,

Despite that the A35's still sold well, enjoying a considerable and loyal enthusiastic following.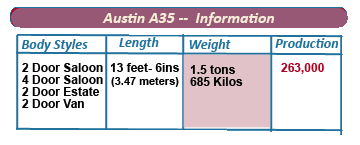 As well as being produced as two door or 4 door saloons, the Austin A35 was also available as vans, saloons, estates and even pick-ups. The compact, light and powerful A35 vans were particularly in demand, remaining in production until the end of the Sixties.
The disproportional proportions of the A30 and A35 models did little to reduce their character and charm. Despite its somewhat stubby appearance, the A35 was surprisingly roomy as well as having a fair turn of speed.

Despite its small engine, the A35 was capable of reaching speeds of 63mph (105 kph) accompanied by a rate of acceleration which enabled 60mph (100 kph) to be reached from the rest in around 24 seconds.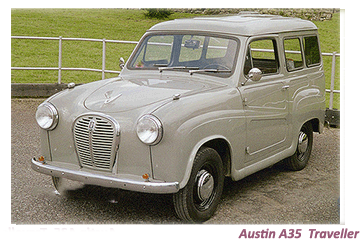 Fuel consumption figures well more than 45mpg (19kpl) were within reach of those motorists who drove with economy in mind, and even consistently hard driving unlikely to bring the figure below 40mpg (17 kpl).

From late 1959 the A35 was dropped for the new Mini, though the Countryman estate persisted until 1962, and vans until 1968.
Neither the A30 or theA35 could be described as inspiring machines as far design and comfort levels were concerned, but they enjoyed huge commercial success and earned their niche in UK motoring history.
Got a question, a comment, a suggestion or an offer??? - FEEL FREE TO CONTACT US ANYTIME!!
A guide to acquiring, restoring and maintaining UK or European Classic Cars of the Fifties and Sixties- as well as a recollection of the iconic cars of the era and the visionaries that produced them.
Take me back to the home page