The A40 had been earmarked as a replacement for the A35 replacement. However, during the car's development stages, BMC observed that demand for the A35 was not slacking, so they decided to launch the new model as the A 40 were running the A35 simultaneously.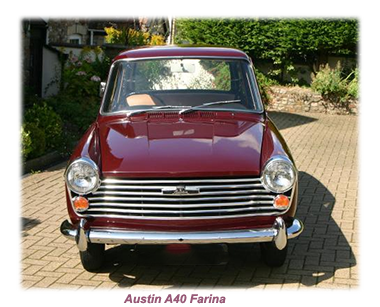 As was the case with the Morris Minor and its so-called "replacement", the Morris 1000, the A35, continued to sell despite the presence of the A40 Farina.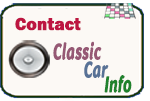 Launched initially as a square-back saloon with fixed rear window glass, the A40 Farina was fêted as the UK's first fastback with enclosed rear luggage space. Despite the hatchback's success, Austin could not resist the temptation to release a full estate version, under the Countryman label, although with traditional fully folding rear seats and opening rear door.

The Austin A40 Farina was launched at the 1958 Paris Motor Show, and met with a  stifled reception, although few could have realised that the car would gain such recognition – changing the concept of how multi-functional vehicles would develop well into the 21st century.
Fir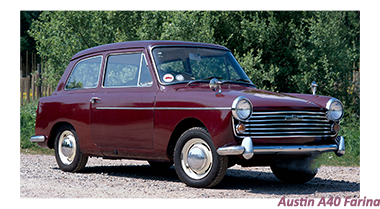 stly the Austin A40 Farina is noteworthy because it was the first post-war Austin to be designed out with the BMC organization, signaling the onset of a long and highly successful association with  Pininfarina.

Austin certainly threw Pininfarina in at the deep end from the start of their relationship, handing them the challenge of designing a compact car that would take over from the best-selling A35.

The Austin A40's structure was all-new and very attractively styled, with a wider track and a longer wheelbase. However, the car's original power plant, including the engine, the transmission, the rear axle, the hydro-mechanical braking and the suspension — were modified versions of A35 equipment.

From autumn 1961, the Mk II version was released with a few significant technical updates, including an engine tweaked up to give 37 bhp and fitted with hydraulic brakes. The Interior was given a new fascia style, and the car sat on a longer wheelbase.
The longer Farina A40 reflected, in its continued production well into the Sixties, BMC's staunch stand against making change just for change's sake.
The Austin A40 remained in production until the end of 1967, eventually clocking up more than 360,000 units sold; the first Farina to carry the Austin label justified its major investment by being a major commercial success.
Got a question, a comment, a suggestion or an offer??? - FEEL FREE TO CONTACT US ANYTIME!!