In the austere atmosphere of post-war Britain, the glamour and success being enjoyed by their counterparts in the  United States proved to be too great a temptation for car UK auto designers to resist.
I
n the case of Austin,  their A90 Atlantic stood out as a classic example of attempting to emulate the Americans at producing a glitzy model, similar if not better than those produced in the US.

The Austin A90 Atlantic made its debut at the 1948 Earls Court Motor Show in London, initially as a two-door convertible with an unusual optional power-operated mechanism to close the hood.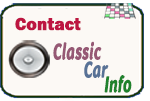 A hardtop sports coupe version of the A90 Atlantic followed the next year, which had an unusual wind-down rear window.

To create as much of an American feel as possible, Austin added a rounded front end with five chrome strips and central fog lamp, plus bravura touches like a 'Flying A' mascot on each wing in addition to the central Austin winged motif.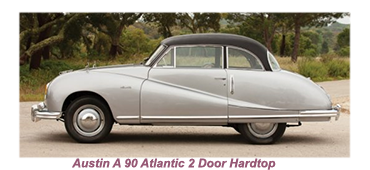 Known as teardrop wings sweeping line from the top of the front wings right to the back of the car,  the Atlantic also boasted rear wheel spats and even gold-faced gauges.
A
s far as accesorisation was concerned, Austin also didn't pull too many punches with the Atlantic, which also sported novel flashing traffic indicators rather than the more usual semaphore arms and offered optional hydraulically operated windows and an Ecko radio.


Under all the ostentatious bodywork and glitzy accessories, the Austin A90 Atlantic came with the same specifications as the humble A70, although the four-cylinder engine had been bored out to 2660cc (162 cu in) and was later used to power the Austin-Healey 100.

Perhaps not surprisingly, the Atlantic flopped on the other side of the big pond with the marketing team at Austin eventually realising that the US market was ready to import, although imported vehicles needed to have European design.

Unfortunatley for Austin, this meant that the Atlantic was unsuccessful on both sides of the Atlantic, and production was ended in 1952 after fewer than 8,000 of these distinctive vehicles had been produced, with only a few hundred sold in the States.
What did made the picture brighter for Austin was that buyers in Europe and British Commonwealth countries took a liking to the Atlantic with close to half the total production run exported to Scandinavia and Australasia.
Got a question, a comment, a suggestion or an offer??? - FEEL FREE TO CONTACT US ANYTIME!!;
A guide to acquiring, restoring and maintaining UK or European Classic Cars of the Fifties and Sixties- as well as a recollection of the iconic cars of the era and the visionaries that produced them.
Take me back to the home page