Introduced in late 1956 to replace the critically acclaimed four-cylinder  ustin-Healey 100 BN2, the 100-Six BN4 was a significant redesign commissioned by BMC to further their strategy of increasing export sales, especially in the US.

N
ot only was the new version powered by BMC's latest 2.6-litre six-cylinder engine, but the body had been stretched by two inches to allow rather cramped 2+2 seating to be provided.
The new car was different from its predecessor in so many small but significant ways.

The slightly longer shell now had a fixed windscreen, and the front-end style had been altered to provide an air scoop in the bonnet.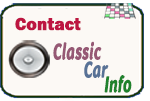 Before long, a smart lift-off hardtop became optional, though the take-up of this item was always limited. According to the price list, disc wheels were not standardised, though wire-spoke wheels were an optional extra.

The 102bhp engine was matched to the same gearbox as used in the BN2, although this time overdrive transmission was an optional extra.

As the BN4 was considerably heavier (by 2701b) than the BN2, and because the engine was by no means as sporty — despite its healthy-sounding growl — the original BN4 felt slower than the model it replaced.


In the next three years, Austin-Healey made a number of  improvements- both to the model as well as their production procedures..

From late 1957, final assembly was moved from Longbridge to the MG factory at Abingdon.

At about the same time a more powerful engine, providing 117bhp instead of 102bhp, was fitted.

T
he last significant change in the Austin- Healey 100-6 range came in the spring of 1958, with the arrival of the BN6, which while retaining the BN4 structure, came with a two-seater cabin once again.


Both of the models continued in production, side-by-side, until mid-1959, when they were phased out, replaced by the Austin-Healey 3000.
Got a question, a comment, a suggestion or an offer??? - FEEL FREE TO CONTACT US ANYTIME!!