With sales of their  MK VI saloon failing to set the heather on fire,  due to the car' s outmoded bulky bodywork, in 1952 Bentley released their first semi-modern design for the Fifties, the R-Type.

The R type Saloon range was Bentley's first post-war release, indicating a general shift in company policy towards producing vehicles with a standard bodywork design away from the company's tradition to produce vehicles whose coachwork was individually designed and produced to their client's often highly demanding specifications.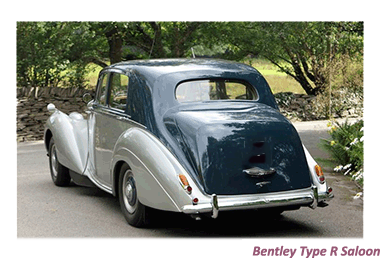 The Bentley R Type came with a chassis that was longer than its predecessor with the bodywork more evenly proportioned. The principal features of the car were its raked rear end, sweeping wheel guards and streamlined front wings.
Designed around a long-tail version of the Mk VI shell,  the R-Type offered considerably enhanced more boot space, a feature which had been sadly lacking with its predecessor.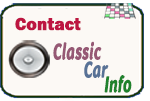 Powered by the 4257cc B60 six-cylinder engine, the R Type Saloon was a real production car, with its four four-door saloon body produced in comparative large quantities for Bentley by Pressed Steel.

On the downside, the Bentley R Type still boasted some ample curves that made access to the back seats difficult, however, while the car's small centre section meant rear passenger accommodation was cramped for such a large vehicle.
Power for the Bentley R Type came from Rolls-Royce's acclaimed 4.5-litre (279 Cu in) six-cylinder engine, with inlet-over exhaust valves.

This winning combination provided both excellent performance and refined operation, which, when coupled with Bentley's typically first-class interior insulation, made the latest addition to the stable a comfortably quiet cruiser. As far as mechanics the R-Type came with the option of fitting  Rolls-Royce/GM Hydramatic automatic transmission,  that featured featuring fluid coupling (in place of a torque converter) providing four forward gear ratios.
W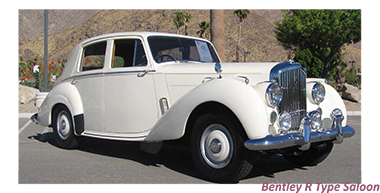 ith no more than development changes — a higher compression-ratio engine from April 1953, and a fully-welded chassis frame,

In production from late 1953, the R-Type continued, visually unaltered, until the spring of 1955, when the S-Series saloon replaced it.
Got a question, a comment, a suggestion or an offer??? - FEEL FREE TO CONTACT US ANYTIME!!
A guide to acquiring, restoring and maintaining UK or European Classic Cars of the Fifties and Sixties- as well as a recollection of the iconic cars of the era and the visionaries that produced them.
Take me back to the home page