Three years on, with sales of their 104 model disappointing, Daimler made yet another change to their 104 saloons, upgrading it to the Majestic DF 316 which they released in 1958.
The Majestic bore a very strong resemblance to the 104, although fitted with a larger engine, disc brakes and a revamped body style.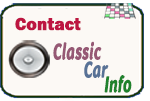 The Majestic was the first Daimler to be equipped with disc brakes, supplied by Dunlop and fitted to all four wheels.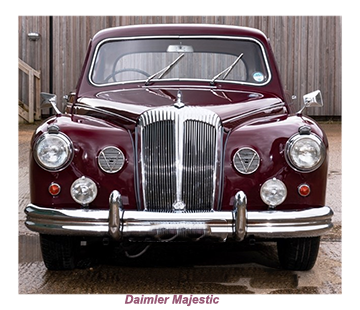 Despite the mechanical advances, the Daimler Majestic still looked a little cumbersome, with its traditional coach built body on a heavy chassis making the large car challenging to manoeuvre.
This shortcoming was partially overcome by the vehicle's lusty 3.8-litre engine meant the Majestic could sail past 100 mph (161 km/h) with comparative ease.
In 1959, barely a year after the Majestic hit the street, yet another offshoot, the Majestic Major appeared.

The two models ran concurrently until 1962 and were virtually impossible to tell apart. The difference was beneath the bonnet, with the Majestic Major having being fitted with  a new Hemi-head V8 engine, considerably improving the Majestic Major's performance. Ironically, more Majestics than Majestic Majors were sold, even though the former was available for five years and the latter for nearly a decade.

The Majestic Major was certainly a high-performance luxury car that could reasonably hope to attract executives who had not quite reached Rolls-Royce or Bentley status but still liked the thought of being seen in a prestige car.
 However, sales of the Majestic's suffered from the uncomfortable fact that stylistically it was lagging way behind some of the exciting designs being presented by Daimler's competitors. 

Another major factor that worked against the car was that despite its impressive top speed, advanced Borg-Warner automatic transmission and servo disc brakes all round, the Daimler Majestic lacked any form of power steering, requiring a huge turning circle. 
These minuses slowly began to work against the pluses and production was discontinued in 1962 with just over 1,000 models sold in the four years that the models were in production.