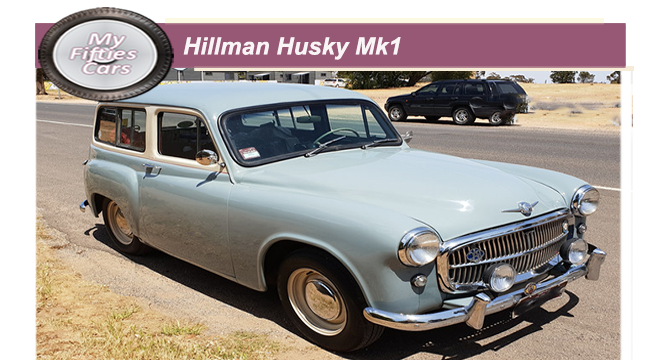 In October of 1954, reportedly after much prodding from the market, the Rootes group gave Hillman the go-ahead to introduce the Husky, a useful short-wheelbase version of the Minx estate car.
A

lthough the wheelbase was trimmed from 93in to 84in, and there were three instead of five doors, much of the structure and all the front end of the Minx remained the same.
To make life easier for loading the Husky came with a rear loading door which opened sideways, making for maximum practicality.
According to indusrty sources, Rootes for a while considering launching the Husky as a genuine fastback, but at the lasr minute, decided against this radical design change, fearing it was ahead of its tiem.
The research team at Hillman spent a long time to make sure that this dual-purpose vehicle was ideally product-planned, with the Husky using a slightly de-tuned 35bhp version of Hillman's old-style side-valve engine, which they retained throughout its three-year career.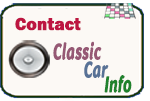 The only significant design breakthrough was that the Husky was the first Hillman for several years to come up with a centre-floor gear change.
Unlike the Minx saloon,the Husky was powered by an older 1265cc 35bhp side-valve engine fitted with a single Zenith carburettor.

Apart from the gear change issue, the Husky was far from spectacular having been designated a very basic trim, low gearing and as usual with Hillman cars , the Husky's handling left a lot to be desired was the subject of much criticism from owners motoring media combined- most of it justified.
The Husky was undoubtedly designed for practicality and not passion, as it came with a maximum speed of about 65 mph, although the majority of those who opted for the vehicle, came from a sector of the market who were happy to cruise at 45-50 mph.

What made the Hillman Husky attractive to potential buyers, especially fleet owners was that the dual-purpose vehicle was exceptionally well priced, almost one quarter less than the Hillman Minx Estate to which it bore a strong resemblance.

As was their regular practice, in 1958 Hillman introduced an upgraded version of the Husky with a new-shape body, based on the new Series 1 Hillman Minx.
T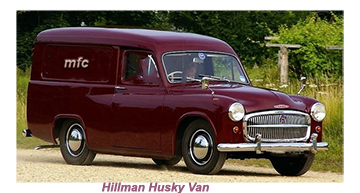 his version ran on, with a few upgrades here and there, the Husky went out of production in 1965.

During its more than ten years in production, Hillman sold a total of 42,000 Mk 1 Huskys, not a bad achievement considering the intense competition that the sturdy but not so attractive dual purpose work horse always had to contend with.
&Take me back to the home page.
A guide to acquiring, restoring and maintaining UK or European Classic Cars of the Fifties and Sixties- as well as a recollection of the iconic cars of the era and the visionaries that produced them.
Got a question, a comment, a suggestion or an offer??? - FEEL FREE TO CONTACT US ANYTIME!!