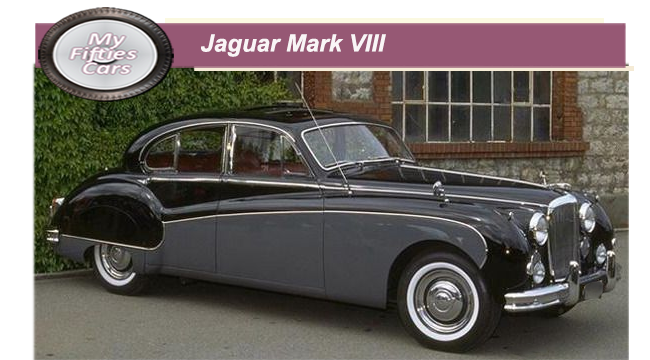 Six years after the Mk VII went on sale, In 1958 Jaguar launched the third version of the model, the appropriately titled Mk VIII, fitting it with a more powerful 210bhp engine.
This new engine, revolutionary for its times, was designed and developed to be shared with the XK150 sports car, and was capable of pushing the MarkVIII to a top speed of over 110mph .
These kinds of speed levels soon meant that Jaguar's policy of fitting theair saloons with drum brakes were a thing of the past.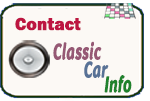 Jaguar introduced the Mark VIII as an interim model prior to the launch of the Mark IX scheduled to be launched late in 1959. The Mark VIII obviously passed its expectations, with sales so strong that Jaguar allowed the two models to run in conjunction well in 1960.
Although the original shape of this massive saloon car remained unchanged from its predecessor, the Mark VII, it now came fitted with a one-piece curved windscreen, a bolder grille treatment and, under the guidelines of a strategically placed chrome strip, the chance to build the car in two-tone paint schemes.

The Mk VIII'S interir trim level had also been taken up a notch or two, with overstuffed leather upholstery the order of the day.

The front bench in the Mark VIIs fitted with automatic transmission was large enough and comfortable enough to do justice to an average UK living room of the Fifties.
Another luxury touch, available from mid-1958, were reclining front seats produced for Jaguar by Reutter of West Germany, an associate company of Porsche.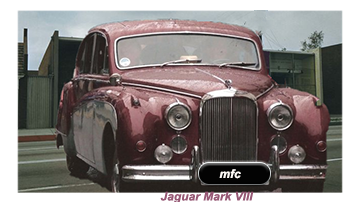 Although there was no power steering at first, this became optional on left-hand drive export-market cars from April 1958as well as a much requested optional extra for UK customers.

The Mark VIII's 210bhp engine pushed the top speed up towards 110mph, which soon demonstrated that the drum brakes, had truly reached their limits.
Although there was no power steering available on early models, this became an optional extra on left-hand drive export-market cars from April 1958. Shortly after, due to the weight of very understandable public demand power steering also became an optional extra for UK customers.

To calm the nerves of the engineering team at Jaguar, disc brakes would replace them on the Mark IX.
A
lthough the Mk VIII was a first-class, sometimes exhilarating, large car, it was not as well-rounded as the Mk IX that would follow it.

The Mark VIII WAS the last derivative of a long-running family of large-sized, overly bulky luxury saloons that were typical of Jaguar as well as a number of other manufacturers of top end saloons during the Fifties.
A total of just over six thousand VIIIs were produced during its close to three-year production run with around 40% of that figure going for exports. It is estimated that now, more than sixty years later, around 150 models are still in existence.