When Jaguar pulled the wraps off their brand-new XK140 in 1954, there were giving the car a pretty hard act to follow asking it to follow in the tracks of their XK120, for many years rated as the most elegant sports car in the world.
Despite the inevitable uncertainties, the Jaguar XK 140 turned out to be as good a car if not better than its renowned predecessor, to which it bore a great resemblance.
The design team at Jaguar had added much larger bumpers as well as a more substantial cast grille, which in the opinion of many, had actually detracted from the model's inherent grace.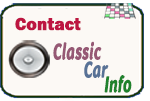 Car safety experts rushed to point out that the new trim would go a long way to improving protection for such a small but powerful car traversing the increasingly crowded roads of the world, there remained high levels of scepticism among the motoring media.

The Jaguar XK140 was given the added advantage of being fitted with a more powerful version of Jaguar's highly functional twin-camshaft engine as well as rack-and-pinion steering as standard as well as an optional overdrive.

For those who preferred not to cope with changing gears, Jaguar even came up with the option of automatic transmission, although very few people took their offer.
Cosmetically, the XK140 boasted a slightly wider body the XK120, providing improved cabin space, a feature that was particularly appreciated among those sitting in the rear seats.

The wider body also entailed an increase in the weight of the car, which Jaguar rapidly offset by increasing the car's engine power to 142kW (190bhp) to compensate for this.
Aware that by 1954 potential buyers of the XK140 were less ready to accept a spartan finish than they were in 1950, when the XK120 was first launched, Jaguar threw in a number of options to improve the driving experience.


The most prominent among them the chance to fit the XK140 with wire wheels, as well as coming up with some exotic colour options for those who liked to put on a show.
A<>s was the case with the XK120, Jaguar also offered a more powerful SE version of the XK140, which used the cylinder head from the C-type, capable of developing 156kW (210bhp), although surprisingly demand these cars were pretty rare.
Despite some blots on its approval record, the XK140 did enjoy a steady demand in the three years that it was in production, with just over 9000 models sold.