The Jensen's 541 caused something of a sensation when the Jensen Brothers announced its launch in 1953, thanks to its evocative streamlined styling and a panoramic windscreen.

Despite keen market interest, it would take another two years before the car was ready to go into production, by which time the company had made the radical step of replacing steel instead choosing glass fibre for the construction of the car's body, while door panels were produced in aluminium.

The Jensen 541 emerged as a genuine sporting two-door four-seater, big enough to be called a saloon,  sleek enough to be a sports coupe, with lots of power.

With a 4-litre, six-cylinder (244 Cu in) Austin engine under the bonnet and incredibly lightweight at just  1.345 tons (1220 kilo), the 541 was a speedy car for its time, capable of reaching a  top speed of 112 mph (185 kph).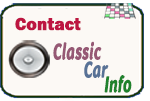 Austin also supplied much of the drivetrain based around their highly regarded Sheerline engine.  

Taking full advantage of their decades of experience garnered in the production of commercial vehicle bodies, the Jensen Brothers designed the 541's body so that it comprised just three separate mouldings, making for ease of production. 


The Jensen 541 came with all of the factors to ensure that it would be around for a much longer time than most of its counterparts, whose steel bodies made them very susceptible to rust.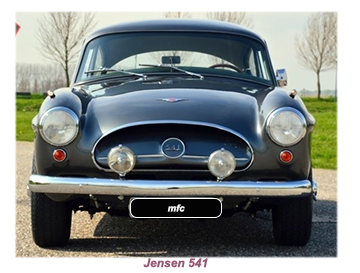 Add to that, the 541 was incredibly lightweight for its size, as well as being almost entirely free of any risk of corrosion, making any body repairs extremely straightforward.
The 541 chassis was a 105in-wheelbase steel platform which included large-diameter longitudinal tubes, small pressings, foldings and reinforcements.

Using a peripheral chassis, the 541 also featured independent front suspension, using coil springs and wishbones, while the rear suspension used semi-elliptic springs and a Panhard rod.


Interior equipment was straightforward but well-laid out, as the 541 was a much more modern car than the Mark I Interceptor had ever been.
In 1956, Jensen came up with an updated 112kW (150bhp) version of the 541 which they fitted with wire wheels for added style, as well as making it one of the first British production cars to feature all-round disc brakes.

The following year, Jensen unveiled further improvements to their winning team, under the label of the 541R powered by the same 112kW (150bhp) engine, along with rack-and-pinion steering and an internal opening boot lid.  
The Jensen 541R 1958 version was one of the fastest cars of its time, with its streamlined body designed by Jensen's in-house stylist Eric Neale.
The last 541 version the  541S of 1960 was slightly broader and more extended and had a limited slip differential fitted as standard.

Despite being expensive, the  Jensen 541 appealed to more people because of its excellent looks and its outstanding abilities.
 The 541 was a swift and capable open-road car. Because of the GRP shell's long-life capability, many have survived.
Got a question, a comment, a suggestion or an offer??? - FEEL FREE TO CONTACT US ANYTIME!!