The first generation  Jensen Interceptor,  the Mark I was launched very early in the Fifties.
The MarkI Interceptor  was a basic two-door convertible, with its  design based on a standard chassis that the company owners, the Jensen brothers purchased from Austin cars where  they enjoyed  a solid working relationship.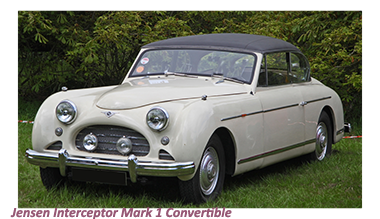 On top of the Jensen Interceptor's chassis was a light alloy body over an Ash frame, produced in the Jensen motors factory in West Bromwich.
The Interceptor came with its entire front assembly hinged at the nose to give excellent access to the engine bay.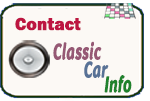 In 1952 the Jensen brothers added a 2-door saloon (coupe), with a full fabric-covered roof to the interceptor range while adding overdrive as a standard feature to both versions at the same time.

Another indication of Jensen brothers strong relationship with Austin was that the car was powered by a 4-litre straight six engine provided by them, while the car's design itself bore a very strong resemblance to the Austin A40 Sports, whose body was supplied by Jensen.

Possibly slightly ahead of its time, the first-generation Jensen interceptor was not to everyone's taste mainly due to its front aspect which was unusually shaped, with an oval-shaped grille, bug-eyed headlights perched above it, with an air intake situated in the front of the bonnet.
That often controversial bonnet was lowered after 1953, while conventional half-elliptic leaf rear suspension for the hypoid-bevel rear axle was added.
For
speed lovers, the Interceptor did not disappoint, providing a top speed of more than 100 mph (161km/h ) from Austin's straight-six 3993cc (242 cu in) A135 engine.

Achieving this kind of performance was  remarkable for those times as was  the Interceptor's capability of accelerating from 0 to 70mph in 17.8 seconds.
Front and rear track dimensions were like those of the Austin too, and a Girling hydro-mechanical braking system was standard. An all-hydraulic system followed in the early 1950s.

Thanks to its immense external proportions, the Jensen Interceptor earned itself a reputation for passenger comfort, with its bench front seat, folding front seat backs to provide reasonable access for rear-seat passengers, as well as  a generous amount of rear legroom.
Although never a major seller (technically and visually it was soon overtaken by the 541 model), the Interceptor re-established Jensen as a car-maker.

Like the PW it was too big and somehow too bulky to be a high-speed car, though its high gearing ratios provided comfortable cruising.
Very few of the 88 cars Interceptors produced between 1950 to 1957  have survived the ravages of time — those who did have gone on to become collectors' items.