In the close to fifty years that they had been in operation, not a single sports car had rolled off the Jowett production line

That's one of the reasons why eyebrows were raised when the news broke that Jowetts were about to launch the Jupiter their first ever" rag-top".
  First shown in 1949 as an "ERA-Javelin", the car went on sale as the Jupiter in March 1950.
When Jowett unveiled their " new baby" early in 1950, as it was in indeed an eye catcher, a far cry from some of the dowdy pre-war models that the company produced
Instead, the Jupiter was very much in the mold of the Gerald Palmer designed Javelin saloon, which, just a year after its launch,  had gained considerable approval and was becoming a steady seller.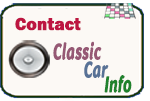 The Jupiter relied on the Javelin for all of its running gear, while Jowett had commissioned engineering company ERA for the car's tubular chassis.
 The engine, transmission, steering column gear change and suspension units were all Javelin-derived (with significantly more power from the engine), but the body on this 93in chassis was entirely new,

 A two/three-seater Drophead coupe, made of internal steel panels with aluminium skins, enclosed a bench seat, but there was no exterior access to the luggage compartment in the long, sloping tail.
Unable to design its own sports car, Jowett asked ERA of Dunstable to come up with a suitable chassis.
ERA
provided an archetypal large-tube layout which was further developed for Jowett by  Professor Eberan von Eberhorst.
The critical exterior design features of the Jowett Jupiter were its windup windows and split front windscreen, which was mostly overshadowed by the car's one-piece lift-up nose section, a function that had been used successfully on the Javelin.

The nose section design allowed for the whole of the front end of the Jupiter, hinged at the bulkhead, to be swung up for engine bay access.
Jowett apparently had some reservations regarding the nose section's  practicality and, by 1952,  with the release of the Jupiter MK IA,  had a  reverted to a proper boot lid, along with reshaped wings.

As expected from a Javelin-derived car, the handling was excellent, although, despite its sporty looks, the Jupiter's performance was soon discovered to be pretty sluggish in performance.
Only available between 1950 and 1953,  the Jupiter was almost a success. 
Although the car looked good, it needed more power, and time went by Jowett found it more and more challenging to compete against its less expensive, lighter, faster, but not necessarily better-looking rivals, meaning that sales began to taper off.

The most favourable epitaph of the Jupiter could be awarded, is that it was the last Jowett to remain in (limited) production, still being turned out after the last Javelins had been produced. With only 89 built, the Jowett Jupiter has become a major collector's car today.