The MGA played a significant part in the history of the MG car company, not just because it was the first model to be produced from the fruits of the merger between the  Nuffield group and Austin, it was also the first model to take advantage of access to corporate mechanical parts.

Most notable was that the MGA took a significant design step forward, the first post-war designed  MG sports car, following in the massive  footsteps of the renowned TD-TFs
Launched in 1955, the MGA, not only had a significantly more modern line, but it was also considerably more mechanically advanced than its predecessors, with much of its drive train derived from the Austin A50 saloon, and based on an enormously strong box-section chassis.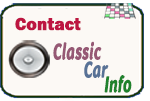 Despite a few possible shortcomings,  the MGA  competed well in its market sector,  more than a match for its particular rivals, the Triumph TR2  and the Austin Healey Sprite.  
With it's 1489cc and 72bhp from its B Series engine, the MGA  wasn't the fastest sports car in the pack but was capable of reaching a respectable top speed of  95mph (152kph).

 On the upside, with gas prices rising in the wake of the Suez Canal crisis of 1956,  the car's  30mpg fuel consumption was widely appreciated amongst its owners.

In 1956, MG encouraged by the car's early success, introduced a  proportionately pleasing coupe version.
Two years later, in an attempt to appease those with a need for speed,  released what was meant to be a much faster version of the MGA, powered by a twin overhead-camshaft 1588cc,108bhp  engine, capable of reaching a top speed of110mph (177kph).  

While the much-touted   MGA twin-cam was capable of hitting these kinds of speeds and with relative ease, overall it spent too long in the shop, plagued with several reliability problems.
By comparison with any previous MG sports car, the MGA, was a considerable advance, with more performance, more comfort, with handling as capable as that of any version of the TD or TF.  

Over the years, with no replacement on the horizon, MG continuously invested in improvements for the MGA, with the 1600cc version, launched in  1959 with a larger engine and front disc brakes.
The final version of the brand, the Mk II released in  1961, had a 1600 cc engine capable of generating 86 bhp and reaching a top speed of  101 mph (160 kph).

It would take a  great car to improve on the MGA, and when it came alone in 1962, the MGB had succeeded in achieving just that.  By that time, the MGA had carved itself a place in sports car history.
In the seven years that it was in production, no fewer than 101,470 MGAs were built, at that time a record for the company.