Late in 1956, Morris finally discontinued the bestselling SII Minor, replacing it with the Minor 1000.
This new generation compact was not only larger than his predecessor but also had been fitted with a more powerful engine, as well as revised gearing and a remote-control gearchange.
In keeping with the strong atmposphere of team spirit that was moving around BMC of those days, the majority of improvements were shared with the Austin A35 and the Austin-Healey Sprite.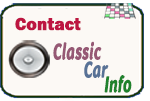 The Minor 1000's 948cc engine had a higher output (37bhp instead of 30bhp) and with an increased torque level while the gear-box ratios and overall gearing were both revised to fit the demands of the more powerful engine,a 948cc spin off of the BMC A-series unit.

While the Minor 1000's design was based around most of its predecessor's bulbous shape, the basic styling was was given some fairly fundamental changes, with the most outstanding being that the SII's almost trademark split-windscreen was replaced by a deeper and wider one-piece curved windscreen.
A larger rear window was also a welcome new addition, as were the 1000's rear wings, coming with a smaller wheel arch cut-out that more closely matched the diameter of the tire.
As far as the 1000's interior was concerned, the layout remained substantially as before, although all the two facia storage holes were fitted while a new dished steering wheel still of sprung three spoked design, faced the driver.
Initially, it appeared that Morris had made a major design blunder when new owners discovered that the new screen was still accompanied by the original wipers which left a large area in the centre of the screen where neither wiper could reach.

IThese and a number of other cosmetic modifications were put right in the Series III, while its engine received a further upgrading.
The Morris Minor 1000 continued to be a steady seller and in 1961 and the accolade of becoming the first UK manufactured car to sell more than one million units.

Reaching this landmark figure also began to signal the end of the Morris 1000, although the model did continue to enjoy considerable sales.

The Sixties saw a steadily declining in demand for the car, although production only ended in 1971, to be replaced by Morris's eminently forgettable Marina.
During the fifteen years that it was in production, the Morris Minor 1000 became as much an enigma as many of its global counterparts in the world market.
Got a question, a comment, a suggestion or an offer??? - FEEL FREE TO CONTACT US ANYTIME!!
A guide to acquiring, restoring and maintaining UK or European Classic Cars of the Fifties and Sixties- as well as a recollection of the iconic cars of the era and the visionaries that produced them.
Take me back to the home page.