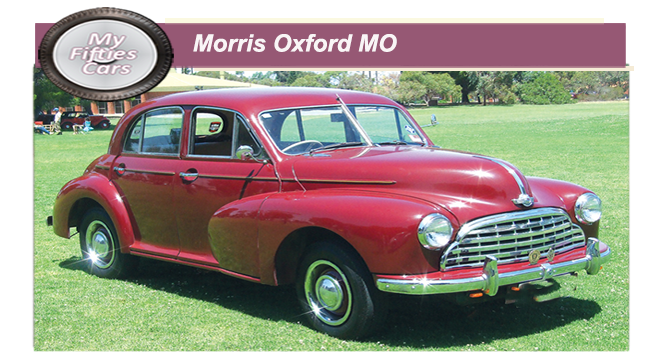 Introduced in October of 1948, the Morris Oxford MO was not only one of the Nuffield group's first post World War II releases, it also set a new trend as one of four cars produced by the group (the Morris Six, the Wolseley 4/50 and Wolseley 6/80) that shared the same basic hull/four-door passenger cabin.
The MO stood out as the only one of the four to be fitted with a brand-new side valve 1476cc engine. It also boasted the shortest wheelbase them all.
The UK motor trade of the time wasted little time in illuminating the very strong resemblance between the Oxford MO and the Minor.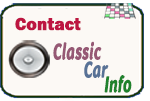 There were those thais went as far as saying that the Minor looked like an MO that had shrunk in the wash".
Apart from the MO's front grille, which was slightly more elaborate than on the Minor, the Oxford was almost an exact enlarged facsimile of its more compact stable mate.

ontrary to the rumours abounding at the time Alec Issigonis- the brain behind the design of the Morris Minor- was not involved in any way in the development of the Oxford MO
It is a matter for record that the two models shared no common body panels or running gear.
Although the slogan was never used in any of Morris's sales literature, the general feeling on the street was that if you wanted a Minor, but one with more power, luxury and space, the next step up from the small Morris was the Oxford MO.

Once again history would prove that the Minor was a much superior car, with the MO generally failing to capture the public's imagination, meaning a much shorter production life, lasting just six years compared to the Minor's 23.
Power for the Morris Minor MO came from a 1476cc (90 cu in) side-valve engine, which was only just able to power the car to 70mph (113k/ph), although the column-mounted gear change was not intended for performance use.
Independent front suspension (by torsion bars) was fitted, but its effectiveness was questionable, forcing Morris to fit telescopic shock absorbers in 1950.

  Changes to the Oxford MO during its production run were minimal. In 1952 a two-door Traveller estate appeared, while later a  van and pick-up versions were also released.
The Morris Oxford MO was finally replaced by the Oxford Series II in May 1954.
Take me back to the home page.
A guide to acquiring, restoring and maintaining UK or European Classic Cars of the Fifties and Sixties- as well as a recollection of the iconic cars of the era and the visionaries that produced them.
Got a question, a comment, a suggestion or an offer??? - FEEL FREE TO CONTACT US ANYTIME!!