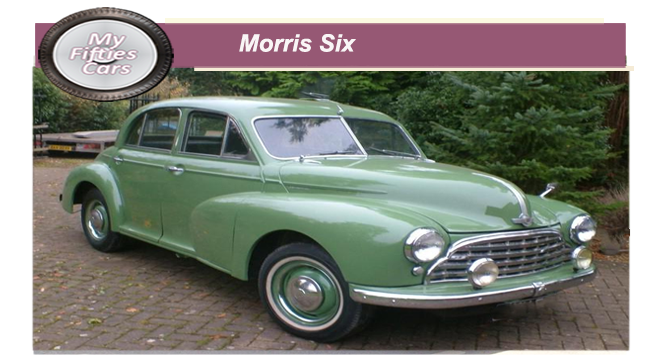 The Morris Six released in 1948 was best described as a combination of the MO and an even less attractive one than its cousin Wolseley's 6/80.
To begin with, the Morris Six was fitted with a less powerful, single-SU version of the 2213cc overhead-cam engine generating just 70bhp. Design wise; the Six was had a less distinctive nose than its counterparts, as well as a less distinctive interior.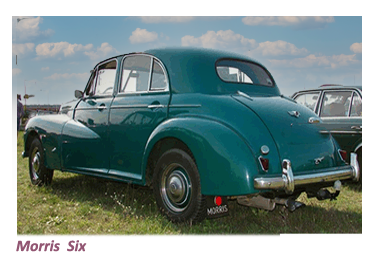 To make matters even worse the car's cam-gear steering was not a patch on the rack-and-pinion of smaller Morris models of this period, while the steering column placed gearchange was liable to become more obstructive as the linkage wore.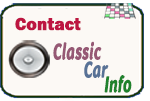 Wolseley was one of the other companies owned by the Morris group, and it was used by its parent company to sell more luxurious versions of the same model, while Morris designed and produced cars that would appeal to the mass market, mostly with considerable success.


In the immediate post-World War II years , the Nuffield group introduced a standardisation policy , which included sharing body styles between Morris and Wolseley, particularly in the class size saloon and estate car sector.
TThis meant that when the Wolseley 6/80 appeared in 1948, a Morris Six lookalike was released. The differences between the tow models although with a less comfortable interior, a distinctive Morris grille powered by a detuned version of the Wolseley 2215cc (135 cu in) six-cylinder engine.

The overhead camshaft unit was fitted with just one carburettor (the Wolseley had two) and was a smooth but uninspiring performer, with doubts over its reliability. The curvaceous body, from the long nose back to the rear of the car, was identical to that of the Oxford MO, meaning that it continued with the same problem of how to accommodate such a bulky engine.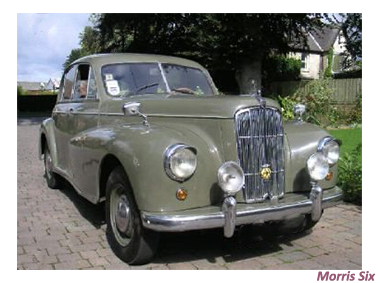 A problem which was eventually solved by Nuffield design engineers by having a disproportionately long nose grafted on to the Six/MO's front.
Soon after the BMC merger was finalised, and model strategy began to take rapid effect the Six was among the first Morris model's to be discontinued.

The last Morris Six rolled off the production line was produced in March 1953, and such was the uncertainty of a place in the market for such a car in the future, the Six's so-called replacement the Isis, was not launched by the BMC group until 1955. Morris's trepiditions were found to be correct with the Isis also selling poorly, continuously overshadowed by its more luxurious stable mates.
Got a question, a comment, a suggestion or an offer??? - FEEL FREE TO CONTACT US ANYTIME!!
A guide to acquiring, restoring and maintaining UK or European Classic Cars of the Fifties and Sixties- as well as a recollection of the iconic cars of the era and the visionaries that produced them.
Take me back to the home page.