Arguably the most exclusive car model produced during the Fifties, the Rolls Royce Phantom IV was laid far away from being an off-the-shelf model.
Of the just eighteen Phantom IV's registered during its six-year production cycle no less than seventeen were created, according to leaked specifications, to be used by members of royalty and heads of state.
A testament to the tremendous levels of finish and quality of production that went into these cars is the fact that sixteen of the original eighteen are still in running order today, on show in national museums, or a part of the most exclusive private collections.
While every Rolls Royce Phantom IV was unique as far as bodywork and interior was concerned, they all shared a common platform, with the car's engine based around an eight-cylinder B Series straight eight engines produced by Rolls-Royce's subsidiary company, Bentley.
The first fifteen Rolls Royce Phantom IV produced used the Bentley  B80 series engine, while the last three were fitted with an updated B81 version.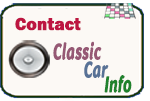 The B80 series were amongst the most powerful and were more generally found in military vehicles.
Rolls-Royce specified these engines for the Phantom IV as it provided a combination of power when needed while also capable of being kept running for considerable distances while driving at a very low speed, a must for cars used by leading dignitaries and heads of state.

With only 18 cars built over six years, each car was unique, with two vehicles out of the total production run fitted with automatic transmission.
None of the eighteen were equipped with power-assisted steering (making for a hard days work for the poor chauffeur).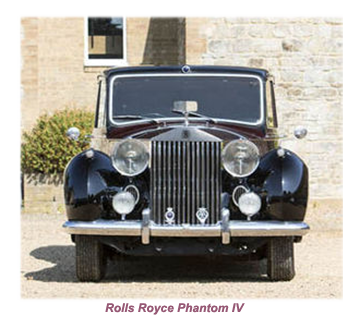 In truth Phantom IVs were hard work to drive, incredibly demanding in fuel, and too large and cumbersome to park.
However these were not characteristics that were taken into account for anyone choosing to invest in a custom-built Rolls-Royce. 

Twelve of the 18 cars were exported, while five of the six that remained in the UK became part of British royal family pool of vehicles, with two of these still reportedly in regular use.
Each of the first fifteen Phantom's produced had a common feature of a kneeling version of the spirit of ecstasy mounted on the radiators, carrying on a tradition that began in 1934.

In many ways, the creation of the Phantom IV series was a throwback of times gone past for Rolls-Royce, who during their peak years in the Twenties and Thirties, produced dozens of similar models under the  Rolls-Royce Phantom label.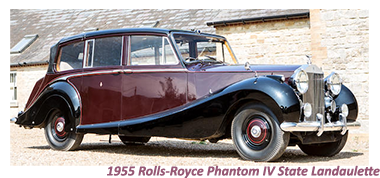 In the post Second World War years, the rapidly changing political scene, bringing increased levels of austerity meant that the budget and consequently the demand for such exclusive cars began to dissipate.

From the Fifties onwards Rolls-Royce began to concentrate their activities on still luxurious but cars that were shorter, less heavy and cumbersome and more financially affordable than the Phantom IV, which was a classic example of the syndrome " if you have to ask the price, you cannot afford to buy it.
Got a question, a comment, a suggestion or an offer??? - FEEL FREE TO CONTACT US ANYTIME!!
A guide to acquiring, restoring and maintaining UK or European Classic Cars of the Fifties and Sixties- as well as a recollection of the iconic cars of the era and the visionaries that produced them.
Take me back to the home page.