In 1956, almost immediately after the Singer company was rescued from almost inevitable insolvency through becoming a part of the Rootes Group, the new owners quickly discarded all existing models and set about releasing a completely new design that was scheduled for release by the end of that year.
T
he first Singer model of the new regime was given the name of Gazelle, although it was really a Minx from the Hillman range marketed by Rootes, although fitted with a new 1494cc (91 cu in) overhead-valve engine, and given a completely separate front look based around the traditional Singer grille.
Serious design contributions were given to the Gazelle's body style by the US-based Loewy design organisation; the jammed themselves a solid reputation during the mid-Fifties, particularly with the Studebaker company producing a number of iconic designs.
I
nitially offered in a choice of saloon and convertible body styles, by the following year, with the introduction of the Gazelle Series II, an estate car version was also made available, with all three versions now available with a larger fuel tank as well as optional overdrive.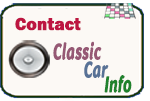 As far as mechanical advances were concerned the Singer Gazelle was designed so that its front suspension was independent through the use of coil springs at the front.
At the rear a live axle was fitted along with half-elliptic leaf springs.


The Gazelle came fitted with a bench front seat as standard, although those who preferred individual seats could have them installed as an option.
T
he soft top version of the Gazelle came with an innovatively designed twin position hood, which could be either lowered completely or take advantage of what became known as the "coupé de ville" position, in which the hood was rolled back to sit just behind the front driver and passenger seats.
By 1958 Singer had produced a minor upgrade for the Gazelle II while changing the model number to the IIA.
The significant difference between the two was that the Singer overhead cam unit was replaced by a standard yet more powerful Hillman engine capable of generating 56 bhp against the existing 49 bhp.

By September of the same year the Gazelle, now re-designated two models III, was fitted with improved seats, with the front bench seat passengers now enjoy the comfort of a folding central armrest. In keeping with a fashion that was sweeping the US car market at that time that had made its way to UK shores, the Singer Gazelle became available with a two-tone paint option, making for some truly gaudy permutations.
Got a question, a comment, a suggestion or an offer??? - FEEL FREE TO CONTACT US ANYTIME!!
A guide to acquiring, restoring and maintaining UK or European Classic Cars of the Fifties and Sixties- as well as a recollection of the iconic cars of the era and the visionaries that produced them.
Take me back to the home page.