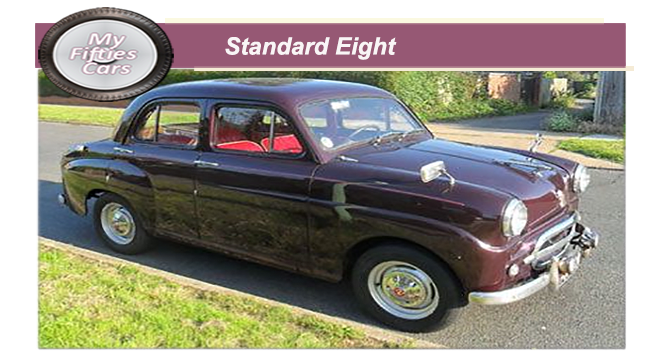 When the Standard Eight was replaced, few mourned its demise -thanks to its complete lack of redeeming features compared to its major rivals.
Launched in 1953 with an 803cc (49 cu in) engine, the Eight was automotive transport at its most basic. With no boot lid and a second windscreen wiper as an optional extra, the car didn't prove popular. This no-frills idea had been borrowed from the Beetle and Citroen 2CV, but they had style — the Eight didn't.
In May 1954 the Eight was made less basic, with a 948cc (58 cu in) engine, winding windows and more trim inside and out when it was rebadged the Ten.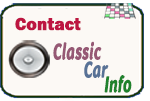 The price rose  from £481 to £538, but the austerity of the postwar era was almost over and people expected —and could afford — to pay more for heir family saloon.
Catching on to that fact, in May 1955, Standard brought in the Family Eight that replaced the basic model.
In October that year, the range-topping Super Eight arrived.


At the end of 1956, the Phase II Standard Eight was released, superseding all the previous versions in one fell swoop.
With a much-improved interior,the Eight became more desirable and was further improved when the Gold Star arrived in 1957, featuring an opening boot and the option of overdrive.

The Eight finally disappeared in 1960 despite some successes in international rallies and was replaced by the Herald.
The new-generation Eight, introduced in 1953, five years after the previous model, shared nothing with it except the name.
It was a brand-new four-door saloon model, with an engine and transmission which (in evolved forms) would power other Standards and Triumphs until 1980.
As direct competition for cars like the Austin A30, Morris Minor and Ford Anglia, the new Eight used a stumpy unit-construction body which had been ruthlessly stripped out to save costs.
Original cars had no separate access to the boot area (found by folding down the rear seats) and had sliding windows front and rear.
 Yet the engine had overhead valves and was very tuneable, and the handling was safe and predictable.
Soon after the Eight was joined by its big brother, the Ten.
With the launch, a long period of improvement began, with peak power gradually rising and better equipment being progressively standardised.
During 1954 a De Luxe models were fitted with wind¬up windows as standard, with this welcome modification adopted by all Eights from May 1955.
From late 1955 there was a Super Eight, with more equipment, and from March 1957 Laycock overdrive (operating on top, third and second) became an optional extra.
Shortly after, Standard added an opening boot lid adopted for all " Gold Star " models, identifiable by their mesh front grille, Gold Star models were also capable of generating a maximum power of 33bhp.

There were no significant changes after that until the Triumph Herald took over, and the last Eight was built in July 1959.
Although, the stripped-out early models, sold well, it was the better-equipped late models which were best.
Always overshadowed by the Tens, then swamped by the Heralds, the Eights were reliable to own , profitable to produce but ultimately not particularly outstanding or memorial.
Got a question, a comment, a suggestion or an offer??? - FEEL FREE TO CONTACT US ANYTIME!!
Take me back to the home page.
A guide to acquiring, restoring and maintaining UK or European Classic Cars of the Fifties and Sixties- as well as a recollection of the iconic cars of the era and the visionaries that produced them.