In March 1954, five months after Standard launched their updated version of the Eight compacts, another updated model, this time the Ten was introduced, larger, faster and more up-market.
Based on the same four-door monocoque, it had a larger 948cc engine and was always better equipped.
 A

part from the new 33bhp engine (that figure would be nudged up to 37bhp by 1957-58), the most significant improvements were the opening boot lid and the wind-up windows, both of which the Eight initially lacked.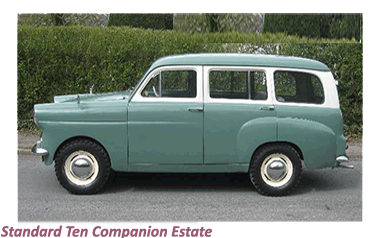 Though the Ten had a fully trimmed interior, it was still a simple car, with no pretensions to high performance or sporty handling. Exterior identification was by a Vanguard-like front grille.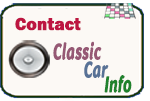 While the price of the Ten was roughly ten per cent more than the Eight, Standard was backing the feeling that the austerity of the postwar era was almost over and the car buying public could afford,  and expected, more.

Throughout its production phase the Standard Ten received several updates although not at the same frenetic pace as those handed to the Eight (which admittedly had a lot more ground to make up!).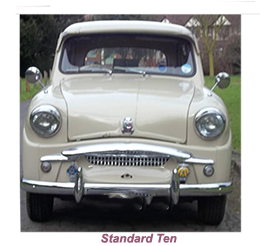 Among the most significant was the release of an estate car version (called the Companion) arrived in October 1954, with four passenger doors and twin outward-opening loading doors.
Structurally, the front end of the Companion was identical to that of the saloon, and the saloon rear wing design was also retained.

The rear passenger doors had squared-up window frames, and the windows themselves were fixed in these doors as were those in the rear quarters, while the roofline continued horizontally to the end of the car.
On the Ten, access to the loading area was via two van-type doors; both of which were fitted with over-centre stays to hold them in the open position.

Folding the rear seat squab forward automatically lowered the seat cushion, thus bringing the folded squab down to the rear floor level. The back of the squab was covered in the same rubber material as the loading area floor.

With the end of the decade approaching Standard began to look at phasing out the Ten, and  the last saloon was built in July 1959, while the  Companion estate underwent considerable remodelling, given Pennant-style front body pressings and an interior upgrade.
This upgrade alone allowed the Companion to remain in production until January 1961.
Got a question, a comment, a suggestion or an offer??? - FEEL FREE TO CONTACT US ANYTIME!!
A guide to acquiring, restoring and maintaining UK or European Classic Cars of the Fifties and Sixties- as well as a recollection of the iconic cars of the era and the visionaries that produced them.
Take me back to the home page.