As the Fifties approached, demand for medium-sized family saloons was reaching almost feverish proportions. Wi
th increased production facilities at his disposable, Sir John Black chairman of Standard-Triumph was keen to get his share.
Having enjoyed considerable initial success with his large sized saloon, the 2000/Renown with its distinctive razor-edge styling, at when the time came to produce a new small Standard-Triumph, Sir John insisted that the theme be applied again.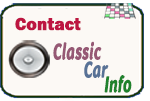 Accordingly, the new Mayflower, whose impending arrival was announced in 1949 although production did not get underway until mid-1950 had a very similar look to the Renown- although on a much smaller scale. The Triumph Mayflower was the first car produced by the Standard-Triumph to take advantage of developments in unit-construction body engineering. Many motoring correspondents of the era unkindly described the Mayflower as " a Renown which had shrunk in the wash".

Fitted onto an 84in wheelbase, the Mayflower was powered by a slightly smaller version of the side valve Standard Flying Ten engine (1247cc instead of 1267cc), backed by the ubiquitous Vanguard three-speed gearbox and its related rear axle.

With an eye to valued export income, as were most UK car manufacturers of the late Forties and early Fifties, the design team at Triumph had spared very little in the way of engineering specifications with the Mayflower, with the car coming with US style steering column gearchange, independent front suspension, by coil springs and wishbones.

Although this was a small two-door saloon, it was relatively well-equipped (up to Standard's perceived "Triumph" standards), with leather seat coverings and pile carpets, and a fascia clearly related to the 1800/2000 saloon's layout. This emphasis on the quality of the furnishings was a good thing, because the performance, with only a 38bhp engine, left little to get excited about.

The global car industry throughout history has shown that most large auto manufacturing companies produce at least one unorthodox model -and the Mayflower was Triumph's. without a doubt.
What is for sure is that no other Triumph model, at least up until the TR7 released almost 30 years later, has generated such hugely divided opinion about its styling as the curious-looking small saloon unveiled in 1949.

The amazing facrt was, considering that both its design and engine were both obsolete almost before launch, that the Mayflower's popularity increased over time, meaning that Triumph were always releuctant to discontinue the model. However slowly dwindling numbers gradually failed to justify the factory spaces needed, especially when mass-market Standard Eights and Tens were selling fast. The Mayflower embarked on its last voyage down the production line in mid-1953.
A guide to acquiring, restoring and maintaining UK or European Classic Cars of the Fifties and Sixties- as well as a recollection of the iconic cars of the era and the visionaries that produced them.
Take me back to the home page.