When first released in 1956, to the casual observer , the TR3, offered very little to distinguish it from its forerunner, the TR2.
Apart from a different name, the most noticeable change between the two stable mates was the egg-crate grille covering the radiator cooling intake.
Proving that outward appearances can be deceptive, the TR 3 was much more powerful, developing 3.5kW (5bhp) more than its previous incarnation, thanks to its having larger SU carburettors. There was also a Le Mans-type head available, which developed 75kW (100bhp).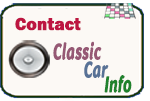 Another significant development that came with the release of the TR3 was the fitting of Girling disc brakes on the front wheels, which made the TR3 the first British production car to boast this feature.

As word got round of the TR3s improved performance, sales of the car began to rapidly emulate that of the TR2.
Demand was driven by the United States market that had finally started to pay attention to the small but vigorous British sports car.
It is now generally acknowledged that the TR3A stablished Triumph in North America, where most sales were made, as well as paving the way for the arrival of Spitfires and newer TRs during the swinging Sixties.

Further improvements weren't long in coming.
For 1957, there was a styling update, which included cutaway doors, a full-length grille and door handles on the outside of the car, among other items of revised front-end styling as well as other equipment improvements.
This version was labelled the TR3A and continued in production until 1962.

In 1959 Triumph began to offer the TR3 with the option of a 2,138 cc engine, in response to tremendous interest generated after the car had come out first in the challenging Alpine Rally of the previous year.
R3A production continued until 1961 when the model was replaced by the TR4, which had a completely new body shell.

Triumph managed to sell a total of around 76,000 TR3s, with 13,377 of them being the standard version and the majority, approximately 60,000, being TR3As with the remainder TR3Bs, solely produced for the American market. Overall the vast majority of the TR3s made their way overseas, most of them to the USA.
Modify