Eager  to get a much of a  share in the demand for mid range family saloons that arose in the early post-war years, in August of 1948, Vauxhall launched their LIX Series Wyvern 
Vauxhall  continued with their policy of fitting pushrod operated overhead valve engines a  feature which had been standard practice  for some years before the war, and the new four cylinder  unit  designed  for the Wyvern continued this practice.
The Wyvern engine had a capacity of 1442cc, fitted with  a single Zenith carburettor, capable of generating  compression ratios of 6.4:1, and power outputs of 35bhp
T
he passenger carrying center section of the integrally constructed bodyshell was substantially that of the earlier cars, but to which was now added a completely restyled front and rear end.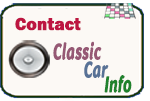 The new front end consisted of a rear-hinged bonnet which still included the famous Vauxhall flutes, and front wings, which now featured built-in combined head and side lamp units.

At the rear, the full-width bootlid was self-supporting, and when opened revealed a usefully large compartment.
Following up on the success of the Wyvern LIX, in August of 1948.  Vauxhall launched the Velox LIP, vitually  a six cylinder engined version of its stablemate.
The Velox LIP's six-cylinder engine had a total capacity of 2275cc, and came fitted with a single Zenith carburetor, providing compression ratios of 6.75:1 and 55bhp at 3300rpm.

Complete with a  new front end that consisted of a rear-hinged bonnet which still included the famous Vauxhall flutes, and front wings, the  new Velox also  featured built-in combined head and side lamp units on the front.
Finishing the front end off visually was a new low-set grille of horizontal chrome slats, and a wraparound chrome plated bumper; whilst underneath was a subframe on which was mounted the engine and the front suspension units.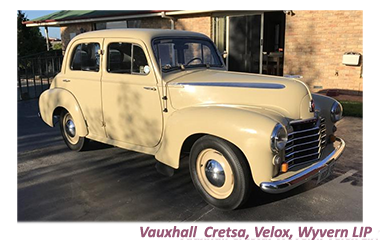 Despite the relatively narrow bodywork really dictating a four-seater layout, the front seat was of the bench type. Bronze colored hide upholstery was a standard feature of the Velox LIP.
To add a taste of luxury, the rear seat was equipped with a folding central armrest.
The  Velox boasted a very simple fascia that contained an instrument panel immediately in front of the driver, consisting mainly of a circular speedometer flanked by an ammeter and fuel gauge. 

Being a six cylinder engine and so-called luxury car the Vauxhall Velox  also came with the luxury of a lidded glove-box for the front seat passenger's convenience, as being equipped with twin sun visors, and twin windscreen wipers for a rainy day.  
Despite only being in production for three years, the Vauxhall Velox LIP and Wyvern LIX sold over 130,000 models.
With foreign currency very much in demand during the immediate post war years, a large percentage of the  Velox and Wyverns produced  during its three production years went for export.
Got a question, a comment, a suggestion or an offer??? - FEEL FREE TO CONTACT US ANYTIME!!
A guide to acquiring, restoring and maintaining UK or European Classic Cars of the Fifties and Sixties- as well as a recollection of the iconic cars of the era and the visionaries that produced them.
Take me back to the home page.