The EIX Series Wyvern, launched in 1951,  was Vauxhall's first actual post-war car, which is to say that there was a brand-new monocoque, much more extensive but surprisingly lighter than the interim Wyvern/Velox cars of the immediate post-war years.
The design team at Vauxhall had come with style for the Wyvern that would dominate the scene at Luton for the next six years. The new models were launched in August 1951 with a 103in wheelbase and a four-door saloon style clearly influenced by GM in Detroit.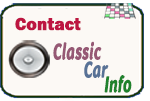 Once again Vauxhall continued their policy of fitting an engine in the Wyvern EIX  that was the same as its predecessor, the same 1442cc capable of generating 35 bhp, linked to a  three-speed gearbox with column change, although the rest of the car's running gear was of more modern design. 
The Wyvern EIX  was the first Vauxhall for several years to be fitted with coil spring independent front suspension.
After only six months of production,  the  Wyvern EIX received a significant upgrade now fitted with  Vauxhall's recently released short stroke 1508 cc four-cylinder engine.
From August 1956 Vauxhall began to produce the Wyvern EIX   with a newer and more restrained grille, as well as a wrap-around rear screen.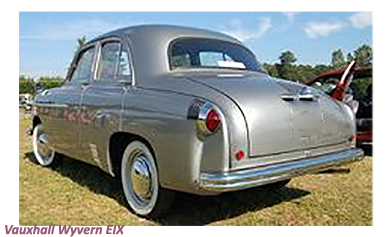 Another welcome update was the luxury of electric windscreen wipers in place of the engine powered versions, which reportedly would slow down to dangerous levels when the driver changed gear.

From June 1957, almost at the very end of its production run, to improve the driver experience,  Vauxhall introduced an all-synchromesh gearbox for the Wyvern EIX.
In the four years that it was in production Vauxhall turned out just over 100,000  Wyvern EIX, the last version of the car to roll out of their plant.
A guide to acquiring, restoring and maintaining UK or European Classic Cars of the Fifties and Sixties- as well as a recollection of the iconic cars of the era and the visionaries that produced them.
Got a question, a comment, a suggestion or an offer??? - FEEL FREE TO CONTACT US ANYTIME!!
Take me back to the home page.