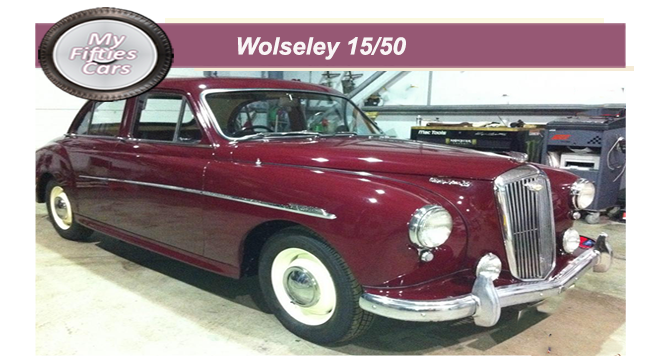 By the mid-Fifties, the UK public had become entirely confused by BMC's policy as far as marketing the Wolseley range of cars.
T
he confusion continued through to 1956 when the company announced the latest addition to their stable, the Wolseley 15/50, an almost complete copy of its predecessor, the 4/44 model.
The only significant difference only difference being that the 15/50 was fitted with BMC's recently released B-Series engine and gearbox.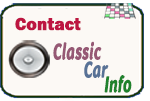 As a continuation of BMC's unrelenting policy to re-badge every vehicle, the bulk of the 15/50's design was also shared by the MG Magnette, except a few of the body panels used on the Magnette ZA/ZB series (for example the boot lid and rear wings.

With MG having to maintain their reputation for producing faster cars, the Wolseley 15/50's engine was fitted with just a single SU carburettor providing a power output of slightly less at 55 bhp.
A possible step up from the 4/44, was that the 15/50 was fitted with a floor gear change as standard, with the option of being fitted with "Manumatic" two-pedal (centrifugal clutch) transmission, marketed as making the driving experience much more pleasant, although in reality, this proved far from the case.
While they may not have been the fastest saloon cars on the road, as was their practice Wolseley more than compensated for that possible shortcoming by fitting the 15/50 with their traditional high standard of interior trim.

Among the passenger comforts were a highly polished walnut dashboard with matching door caps complemented by top-quality leather upholstery.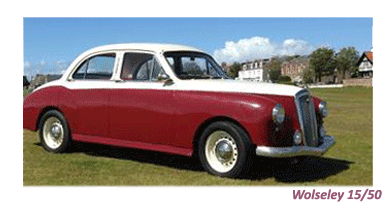 External changes from the 4/44 were so few to be indiscernible among them a restyled waist trim, the Wolseley branch on the grille, which lit up when the car lights were switched on.
Als

o new was the car's rear model badge fitted on the boot lid written in script in place of separate numerals.
The Wolseley 15/50 remained in production for two years, discontinued in 1958 to be replaced by the Farina-styled 15/60. 
Up to that point a total of 12,353 15/50s had been sold.
A guide to acquiring, restoring and maintaining UK or European Classic Cars of the Fifties and Sixties- as well as a recollection of the iconic cars of the era and the visionaries that produced them.
Take me back to the home page.;
Got a question, a comment, a suggestion or an offer??? - FEEL FREE TO CONTACT US ANYTIME!!