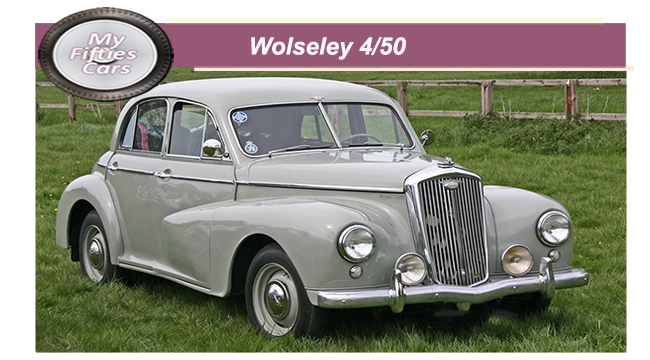 The 1.5-litre engined Wolseley 4/50 saloon, released in 1948, was one of the first post-Second World War cars to come from the Nuffield stable.
W
ith the middle-class British public looking to replace the mostly pre-war vehicles, even an uninspiring car such as the 4/50 was guaranteed a market, and it was evident to all concerned that the vehicle was developed solely as a stopgap for Wolseley until more appealing models could be developed.
The  4/50 was fitted with a 4-cylinder 51 bhp overhead-camshaft version of the engine installed in the 6/80 which made the car underpowered, as it once again it was hefty in proportion to its engine size. 
As was the policy at Nuffield, the 4/50's interior trim and fittings were of improved quality to its stable counterpart,  the entry level Morris Oxford MO's, with wood fascia leather upholstery and a well-equipped dash providing levels of comfort, although not quick compensating for the car's lack of power.
The Wolseley 4/50 saloon  was, once again, a more upmarket and disproportionately more expensive version of the Morris Oxford MO, and with its stablemate the 6/80 offering better looks and value it was always in the shadows of both these cars.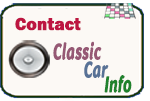 Despite these facts, the 4/50 turned out to be not a bad seller, which, if truth be told was mainly due to a chronic shortage of new vehicles appearing on the market at that time.
However, when it was replaced by the much improved  4/44 in 1953, not too many people were disappointed.
In retrospect, most individuals who acquired a Wolseley 4/50 did not have the patience to hang on to this regal looking and exceptionally comfortable car.
T
hose that had would go on to discover the vehicle's remarkable longevity, averaging more than ten years in the Uk of the Fifties when applying copious quantities of salt to the roads during the winter was widespread practice.

Indeed when the " MOT"  test was first introduced in 1960 under the direction of the Ministry of Transport to remove unsafe vehicles from Britain's roads, the 4/50s enjoyed a very high pass rate.
Modify
Take me back to the home page
Got a question, a comment, a suggestion or an offer??? - FEEL FREE TO CONTACT US ANYTIME!!