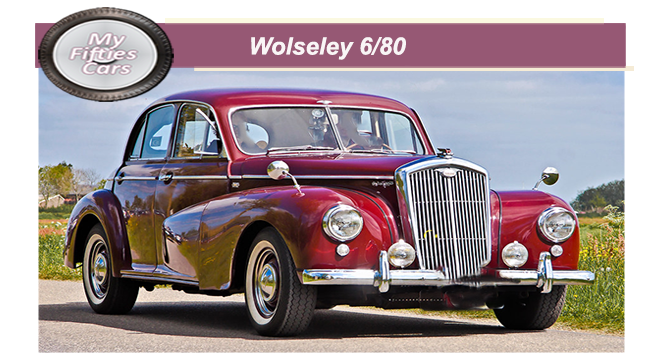 Launched in 1948 an almost complete clone of the 4/50 at least at the front, the  Wolseley 6/80 carried the advantage of being the most potent and best-specified of all the cars in its category coming from the Nuffield group.
Sitting on the same long-wheelbase monocoque chassis and four-door saloon cabin as the less expensive Morris Six, the 6/80 packed a lot of power,  thanks to being fitted with a twin-SU version of the 2215cc overhead-camshaft engine used by the group.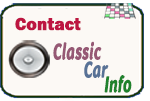 What will place the 6/80 firmly in the annals of history among the UK public of the Fifties was its tremendous popularity among the police forces of the country, who always specified the  6/80 during the years that it was in production.

The four-speed gear-box, the steering-column gear change, and the torsion bar independent front suspension was all corporate fittings, but the 6/80 featured the usual up-market Wolseley fascia, with leather seats and the luxury of a heater/demister coming as standard.
Some of the earlier 6/80s, mostly those that had gone into use by the UK police forces, began to experience problems with their exhaust valves, that would burn out at a frightening pace.
Wolseley's engineering team working in hand with mechanical engineers from the British police force came with with a solution for the problem, involving applying a special coating of cobalt-chromium material.

Other technical upgrades included the fitment of telescopic dampers to the rear suspension from January 1950 and twin telescopic dampers on each side of the front suspension which were fitted from May 1950.
The Wolseley design team's decision in the spring of 1952 to "upgrade" the 680's individual bucket seats in the front row to a divided front bench was not as well accepted as the company had hoped, with many members of the motoring press even rating it as a retrograde step.  
As standards demanded by UK car owners increased during the Fifties,  the 6/80 began to steadily lag behind. It wasn't all that fast or didn't handle all that well.

These shortcomings were offset by the car's strong associations to the British police forces, which almost certainly gave the car an artificially prolonged longevity. In any event, the 680 was finally phased out in 1954, replaced by the more up-to-date 6/90.
Of the 25,000  built many of them survived to become modern-day classics- a tribute to Wolseley's engineering and production and standards, with no little help from the " boys in blue."
Got a question, a comment, a suggestion or an offer??? - FEEL FREE TO CONTACT US ANYTIME!!
A guide to acquiring, restoring and maintaining UK or European Classic Cars of the Fifties and Sixties- as well as a recollection of the iconic cars of the era and the visionaries that produced them.
Take me back to the home page.