Launched In the autumn of 1954, the Wolseley  6/90  bears the dubious distinction of being was the very first model to be released in the wake of the massive BMC merger, as well as the first to be fitted with a BMC engine instead of one coming from the Nuffield plant.
O

nce again being a remarkable resemblance to one of its stablemates, this time the Riley Pathfinder, BMC engineered the Wolseley 6/90 so that it could share many chassis components as well as the same basic body shell proportions, although not all of the same pressings that went into the Pathfinder used on the 6/90.
Developed to be a direct replacement for the Nuffield-type 6/80, the 6/90 was always going to be a major attraction for the UK police force, bigger, more comfortable and more powerful than its predecesso, thanks  its capability of generating 95bhp instead of the 72bhp which was the maximum that the 6/80 could achieve.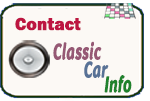 The  6/90's four-door saloon body once again strongly featured Wolseley's iconic grille, however, this time the car was designed with more of a sloping rear end.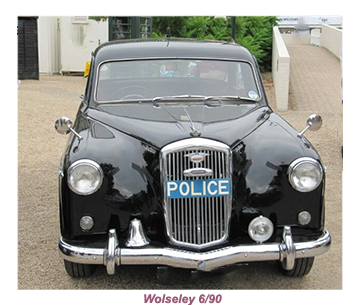 Despite the controversy that developed with the 6/80, the 6/90's front seat was once again a divided bench, with another "improvement" is that the car's circular instruments were strategically positioned ahead of the driver's eyes.
The initial version of the 6/90 sold very well, with the police forces of the UK  being steady customers, always on the lookout for powerful  "chase" cars.

However, feedback soon filtered through that the 6/90's handling was far from acceptable.
To their credit BMC reacted very quickly, in  October of  1956, releasing the  Series II, version of 6/90 was absolutely no interior or exterior upgrades, but fitted with conventional half-elliptic leaf spring rear suspension.
At the same time, BMC upgraded floor gear change for left-hand drive cars, with the gear lever situated alongside the driver's seat, close to the door.
From mid-1957 the car moved up to Series III, with servo-assisted Lockheed brakes fitted and the rear window enlarged, making the 6/90 an almost identical copy of the Riley 2.6 model, which went on sale at the same time.

In mid-1959, the Wolseley 6/90 was discontinued to be replaced by the entirely different Farina-styled 6/99.
History will remember the 690 as being large, imposing and roomy, although its downsides, according to the motoring media, was that the vehicle was too heavy, making them difficult to handle in the days before power steering.
Take me back to the home page
A guide to acquiring, restoring and maintaining UK or European Classic Cars of the Fifties and Sixties- as well as a recollection of the iconic cars of the era and the visionaries that produced them.