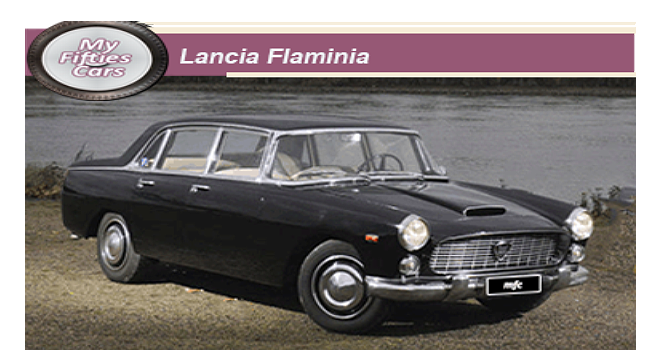 The Flaminia was brought in by Lancia late in 1956, in time for the 1957 model year.
Introduc
ed to cover the gap in their luxury car sector so adequately filled by the Aurelia during the early to mid-Fifties, the Flaminia proved to be a success, remaining in production until the beginning of the Seventies.
 Lancia followed their now tried and tested formula of producing the sedan version of the Flaminia in their Turin plant and "farming out" the coupé and cabriolet to prestigious Italian coachbuilders, among them Pininfarina and Zagato.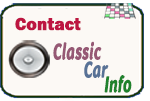 The new Flaminia series, powered by a revamped version of Lancia's V-6 this time a  2458-cc, 150 cubic inch engine, was capable of generating  99 horsepower, matched up to a four-speed gearbox.
Other developments in motoring technology that Lancia fitted on the Flaminia  were an all-new universal wishbone suspension and Dunlop inboard rear brakes.

The " standard" four-door sedan featured a Pinin Farina penned " ready for the Sixties"  box-shaped design, a distinct departure from the  Aurelia, which was in the rounded Fifties style.
Particular features of the Flaminia's  pillarless body included a mesh-type V-shaped grille, hood scoop, and a wraparound windshield.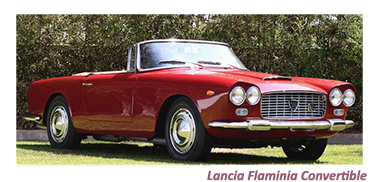 The Flaminia was fitted to the highest levels of comfort and contained all of the latest technological developments to heighten the driving experience. Standard features included a tachometer and odometer mounted on the car's instrument panel.

The sedan's interior layout was designed to allow the front seatback to be folded to a horizontal position, while the driver could control the position of rear quarter vent windows.
In addition, each window on the Flaminia sedan was designed to have its own frame so the sides would not be completely open when the windows were down.

When the Flaminia launched, approval of the car was unanimous, with famous figures in the movie world, among them the fabulous Sophia Loren, an Italian superstar herself and Audrey Hepburn snapping up one of them.

Legendary racing driver Juan Manuel Fangio also reportedly favoured the Flaminia and added one to his collection.
There were even four "presidential" stretched limousine version of the  Flaminia produced by special order by  Pininfarina for the Italian Government for use on state occasions.
The aluminium-bodied Zagato fastback was generally considered the most stylish of all the Flaminia variations, with its deeply recessed headlamps behind clear lenses offsetting the ultra-modern grille appearance.
 Although demand for the Flaminia was never overwhelming, it was at least consistent, enough to allow Lancia to keep the car in production for more than thirteen years.
Got a question, a comment, a suggestion or an offer??? - FEEL FREE TO CONTACT US ANYTIME!!
Recalling the iconic cars of the Fifties and Sixties and the visionaries that produced them - as well as a guide to acquiring, restoring and maintaining UK or European Classic Cars.
Take me back to the Home Page