The Morgan Plus 4  introduced in 1950, and powered by a 1267cc engine supplied by the Standard motor company was reportedly the first step in the company's plans to phase out their evergreen 4/4.
Surprisingly, this move resulted in falling sales, meaning that the budget 4/4 was reintroduced after a five-year absence.
First market impressions  were  that the Plus 4 an attractive and practical sports car, although when Morgan lengthened the wheelbase of the 4/4 chassis to 96 inches and added two inches to the track while stiffening up the frame all round, and changing suspension settings from rock hard, the car moved up a league or two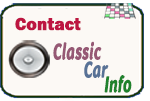 As well as all of these changes Morgan fitted the Plus 4 with provided hydraulic brakes for the first time. 

WA Moss gearbox was mounted separately from the engine, several inches back in the frame.
With this formula in place Morgan were reportedly satisfied with the Plus 4. Despite that, as was company policy, changes and improvements came regularly.
In 1953 the style changed to incorporate a sloping radiator; one year later this change was completed, to include a curve.
hilst it bore a strong resemblance to the 4/4, the Plus 4 stood apart for a number of small but significant reasons. Firstly for the model's distinctive bolt-on headlights topping of separate mudguards.
Be

cause of its design to include rear seat passengers, the Plus4's wheelbase was four inches longer while the track was two inches wider that the 4+4, making for some valuable-cabin room

.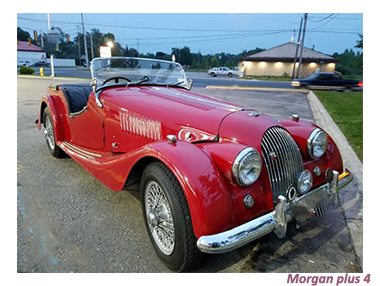 A four-seater version of the Plus 4 was offered from 1951, while cars from 1953 onwards got a 4/4-style curved radiator grille and disc brakes from 1960.
The Vanguard engine unit stayed until 1958, although the smaller, but livelier, TR2 2-liter (122 Cu in) unit was offered as an option from 1954 and onwards.
Th

e Morgan Plus 4 was discontinued in 1962 although reintroduced in 1985.
During the twelve years that the car was in production, more than 4500 models were sold.
Modify
Take me back to the home page
A guide to acquiring, restoring and maintaining UK or European Classic Cars of the Fifties and Sixties- as well as a recollection of the iconic cars of the era and the visionaries that produced them.