Adam Opel AG, based in Russelsheim, in the Hesse region, are one of Germany's longest established car manufacturers, in operation for close to eighty years.
The founder of Adam Opel AG was none other than Adam Opel himself, who as a young man, followed in the long-running family profession of manufacturers of top quality sewing machines.
The young Opel was in his mid-Twenties when he opened his small workshop, based in a converted cowshed in his hometown of Russelsheim in 1862.
Having gathered considerable experience working in various family enterprises, and with a desire to create the finest of custom-built sewing machines, Opel, with a growing family consisting of five sons, knew that producing just sewing machines would not be enough to employ them all gainfully.
As each of the Opel sons came of age and were set to work in the sewing machine plant, they also came with a lot of ideas of their own, To his credit Opel Snr. Was prepared to contemplate them all, and invest in the ones that appeared to offer the most potential.
The first significant Opel diversification, which got underway in the early 1880s was to produce pedal bicycles, a mode of transport that had gained tremendous impetus throughout Germany. The new division nearly never got off the ground when attempts to create a UK style " penny farthing" cycle turned out to be a complete failure.
Not one to give up easily, Opel and his two sons Carl and Wilhelm, who were already involved in the business, set up an in-house research department in their new plant that the had just opened. The priority of the research department was to iron out the problems that Opel had been experiencing with the " penny farthing" while at the same time looking for more up to date racing styles.
When the " penny farthing" problems became a thing of the past, Carl and Wilhelm promoted them mercilessly, taking part every weekend in bike racing events all over the Hesse region.

Soon the demand for bicycles, including some newer designs, was surpassing that of sewing machines, which was a welcome development as the remaining three Opel sons, Heinrich, Friedrich, and Ludwig, were now fully involved in the family business.
Sadly, in 1895, as the company he founded was reaching new pinnacles, Adam Opel passed away at just 58.
Despite passing away so prematurely, Adam e had lived long enough to see his business grow to become among the leading manufacturers of both sewing machines and bicycles in Europe, and with a solid base for future growth.
With the passing of their father, the Opal brothers could not have been blamed if they had rested on their revered late father's laurels and continue to enjoy the good life that their bicycle and sewing machine empire was guaranteed to bring them.
It seems that the brothers were made from very similar stock as their father and within a few months were already setting up their latest business.
This time in partnership with Friedrich Lutzmann, a locksmith by profession, who had spent some years developing what he claimed was the most recent innovation in automobile design. Lutzmann, undercapitalised, was looking for a partner to take his plans to the production stage and was lucky to have found the Opals.
As the partnership got underway, it soon became evident to the Opels that while Lutzmann's designs looked good on paper, in reality, they were far away from being practical.
Having invested two years and some capital on that particular project, the Opels dissolved their partnership with Friedrich Lutzmann.
Shortly after they found themselves swimming with a much bigger fish when in 1901 the signed a licensing agreement with French auto giant Automobiles Darracq S.A. to develop and manufacture vehicles under the title " Opel Darracq."
This arrangement proved to be much more of a match, with the first Opel Darracqs going on display at the 1902 Hamburg Motor Show.


Not all business partnerships are matches made in heaven, and the Opel Darracqu arrangement was far from being idealic. It was only a matter of time unfortunately that cracks began to appear with this latest partnership, caused by severe delays in getting the cars into production.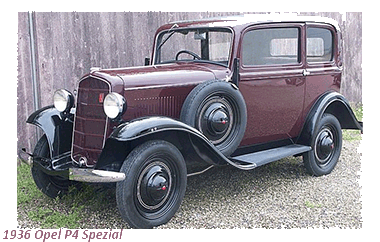 The cracks widened to such an extent that there was no option but to dissolve the partnership. Both parties went their separate ways during 1907.
At that point, the brothers decided it would be best for them to go it alone, and they began the process of research and development that they hoped would see the first Opels start to hit the streets.
Once again, just as it looked as the Opel brother's now the protracted dream was about to become a reality, they suffered a major fire at their plant in Rüsselsheim, and once again everything had to be put on hold.
To their credit, Opel got back into production very quickly and were able to invest in the most modern machinery for their new plant.
Within just a few short years, Opel had established themselves as one of Germany's largest car manufacturers.
Having mastered the art of mass production of sewing machines and bicycles, By the beginning of the Twenties, Opel had adopted the same principles to car production.
The first example of their expertise came with the launch in 1924 of the Opel "Laubfrosch" (Tree frog) a simple, inexpensive and well produced soft-top two-seater, painted in a strong lime green lacquer to make it stand out from the crowd.
The launch of the " Laubfrosch" symbolised Opel's commitment to bring the benefit of motorised transportation within the financial reach of a much broader cross-section of the German people.
This commitment led to Opel capturing close to 40% of the entire market share in Germany in 1928, just ten years after they had begun their car manufacturing adventure.
Such a level of success set the whole of the European car manufacturing industry talking, and it was only a matter of time before some of the giant US car companies came calling.

Particularly curious were General Motors, who had been looking to establish a foothold in mainland Europe for some time, having acquired Vauxhall Motors of England in 1925.
Within a few months, early in 1929, GM added Opel to their stable, or at least an initial 80% of it, for which the Opel brothers were paid the healthy sum of $33.3 million, a lot of money in the late Nineteen Twenties.
GM also retained the option to acquire the remaining 20% of the Opel shares which they were happy to take in in 1935, after which the last of the Opel Brothers retired from the company.
Simultaneously with them gaining total control of Opel, GM announced that they would be building a second factory in Germany to produce light trucks, Another landmark that year was the announcement that Opel had become the first German vehicle manufacturer to produce more than 100,000 cars in a single year.
Behind the glow of Opel's continuing success, a cloud of gloom was descending over Germany and the rest of the World. That was the threat of impending conquest instigated by the Nazi party.
The Nazis were so confident of victory , in particular during the early part of the war, that they allowed Germany's car factories to continue in full production, although commandeering the cars that they produce for use by their troops. At that point, there were some rumours that, while the US were not directly involved in the war, some of the profits earned by Opel were actually being filtered back to the US- a claim that was never substantiated.
All that was to end in December of 1941, after the Japanese attack on Pearl Harbor bringing the United States of America into the war.
Even then a few questions were asked as to why the Opel plants, as well as those of Ford Germany, suffered much less collateral damage than the plants that were wholly owned by German companies.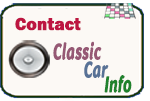 At the end of the war, despite their plants being in better condition than most other German companies, Opel were soon to discover that they would not be able to enjoy any of its benefits.
Under the control of the victorious Allied Forces, the Opel car manufacturing plant at Rüsselsheim was almost entirely dismantled, and all of its plans, fixtures, and tools shipped off deep behind the Iron Curtain to a Soviet-controlled facility, never to return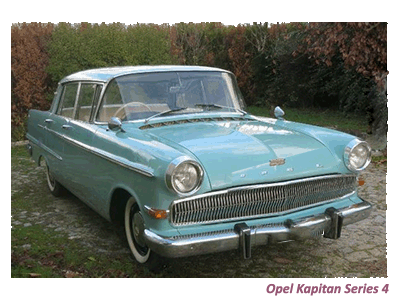 Meanwhile, the US forces occupying what was now West Germany were anxious to see Opel get back into production at the Rüsselsheim plant, permitting them to produce a light truck to be powered by the 2.5 Liter engine developed for the pre-war Kapitän saloon.
Although the plant did succeed to get back into action within a highly respectable time frame, a combination of a shortage of raw materials and a vastly depleted workforce meant that it would be at least five years before anything approaching reasonable production figures could be achieved.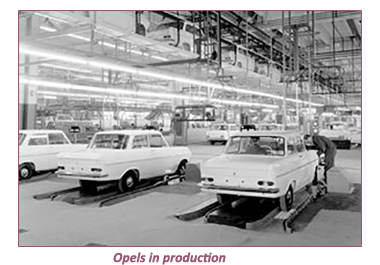 Another problem that began to emerge at that time was the long-term future of Opel, with GM, who still held 100% of the share capital showing a growing resistance to returning to running the company,
After considerable pressure, eventually, GM agreed very reluctantly to begin to take responsibility for Opel's affairs, although the company's senior management insisted on having a two year trial period before making a final commitment.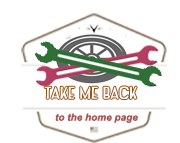 In 1950 the picture at Opel was looking a lot brighter, especially when GM announced that they would not be turning their back on the company ( and their massive investment) and would welcome them back into the fold.
During the Fifties and Sixties, demand for Opel continued to reach steadily above 100,000 annually for the first time in the post-war years in 1953 and increasing by more 60% the following years.
Today, Opel is a subsidiary of Groupe PSA, who acquired the company from GM in August 2017. Opel has grown to become a global force, offering a choice of well designed and solidly constructed vehicles covering the middle to top of the range sector.