The Aston Martin DB Mk III, introduced in 1957 and discontinued just two years later was the final version of the original DB2 line which had been in production, in some form or other, throughout the Fifties.
Recognisably the same as earlier types, but distinctive, this was the last of the compact Aston Martins, for the DB4 which took over was much larger and heavier.
This time the standard 2.9-litre engine produced a credible 162bhp, though no less than 178bhp was optional.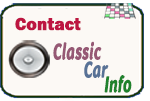 Backing up this considerable power train were a hydraulically-operated clutch, and Laycock overdrive that was available as an option.
Borg-Warner automatic transmission could also be specified but only with the 162bhp engine.

For the DBMarkII model, the chassis was modified to accept Girling front-wheel disc brakes, making this the first road-going Aston Martin so equipped.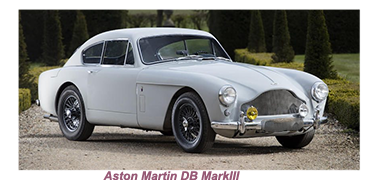 With its body built by now David- Brown subsidiary, Tickford, rather than at Mulliners the DB iii had a modified front-end style, complete with a more curvaceous grille aperture, and less angular panel work to suit.
As before, the hatchback feature of the coupe was continued, although three different body types were still available.

The DB Mark III carries the distinction of being the only " James Bond" car additional have gadgets installed.  Those included switches that would change the  colour of  the front and rear lights ,  reinforced steel bumpers and a real look in to the future- one of the first commercial homing devices.
Although this model and its predecessors were great favourites among those who understood what made a quality sports car, sales were limited by their high selling price.

According to a famous statement made by no less than David Brown himself, by the end of the Fifties, Aston Martin had succeeded in losing money on every car that they sold.

The last DB Mk III rolled off the production line at the Aston Martin factory in Feltham, which was soon to be closed.
This event doubly marked the end of an era, as the model had no obvious replacement while David Brown was appearing to have lost a lot of his early enthousiasm for the car industry in general and Aston Martin in particular.
Got a question, a comment, a suggestion or an offer??? - FEEL FREE TO CONTACT US ANYTIME!!
A guide to acquiring, restoring and maintaining UK or European Classic Cars of the Fifties and Sixties- as well as a recollection of the iconic cars of the era and the visionaries that produced them.
Take me back to the home page