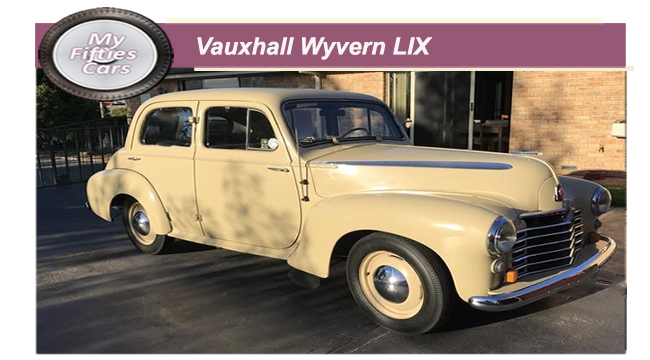 Anxious to get their share in the demand for mid-range family saloons, Vauxhall launched their LIX Series Wyvern in August of 1948.
The LIX was little more than a restyled update for what was still basically their pre-war range.
V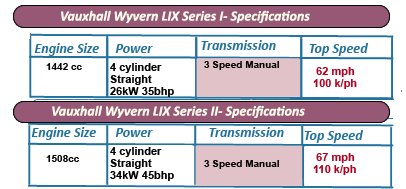 auxhall continued with their policy of fitting pushrod-operated overhead valve engines a  feature which had been standard practice for some years before the war, and the new four-cylinder unit designed for the Wyvern continued this practice.
The Wyvern engine had a capacity of 1442cc, fitted with  a single Zenith carburettor, capable of generating  compression ratios of 6.4:1, and power outputs of 35bhp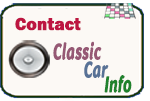 The passenger carrying centre section of the integrally constructed bodyshell was substantially that of the earlier cars, but now with a completely restyled front and rear end.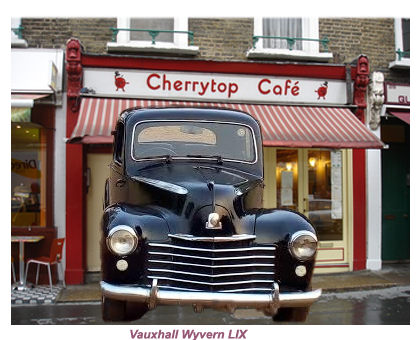 The new front end consisted of a rear-hinged bonnet which still included the famous Vauxhall flutes, and front wings, which now featured built-in combined head and side lamp units.

Finishing the front end off visually was a new low-set grille of horizontal chrome slats, and a wraparound chrome plated bumper; while underneath was a subframe on which was mounted the engine and the front suspension units.
Access to the passenger compartment was via four doors; all of which were hinged at the centre pillar, this particular feature underlining the model's post-war ancestry perhaps more than anything else.

All four doors were equipped with balanced drop main windows, and quarter windows were fixed in the rear doors, although of the swivelling type in the front compartment.

At the rear, the full-width boot lid was self-supporting, and when opened revealed a usefully large compartment.
With foreign currency very much in demand in the immediate post-war years, a large percentage of the  55,000 Vauxhall Wyvern LIXs produced during its three production years went for export.
Got a question, a comment, a suggestion or an offer??? - FEEL FREE TO CONTACT US ANYTIME!!
A guide to acquiring, restoring and maintaining UK or European Classic Cars of the Fifties and Sixties- as well as a recollection of the iconic cars of the era and the visionaries that produced them.
Take me back to the home page.